Strawberry Raspberry Cherry Ice Nic Salt E-Liquid by Elfliq
Only %1 left
SKU
elfliq-strawberry-raspberry-cherry-ice
Brands:

Strawberry Raspberry Cherry Ice flavour 10ml Nicotine Salts E-Liquid
3000 puffs per bottle or equivalent to 5 elf bars disposable vape
10mg & 20mg Nicotine Strengths
50% VG / 50% PG
Blended For MTL Vaping
TPD Compliant
Made In China
Childproof Cap
Tamper Evident Seal
Recyclable Bottles
Same day dispatch & tracked next day UK delivery
Next Working Day delivery
Strawberry Raspberry Cherry Ice Nic Salt E-Liquid
Vaping has become a popular alternative to traditional smoking, offering a wide array of flavours and options for enthusiasts. One such enticing choice is the Elf Bar Elfliq Nic Salt E-Liquid in its distinctive Strawberry Raspberry Cherry Ice flavour.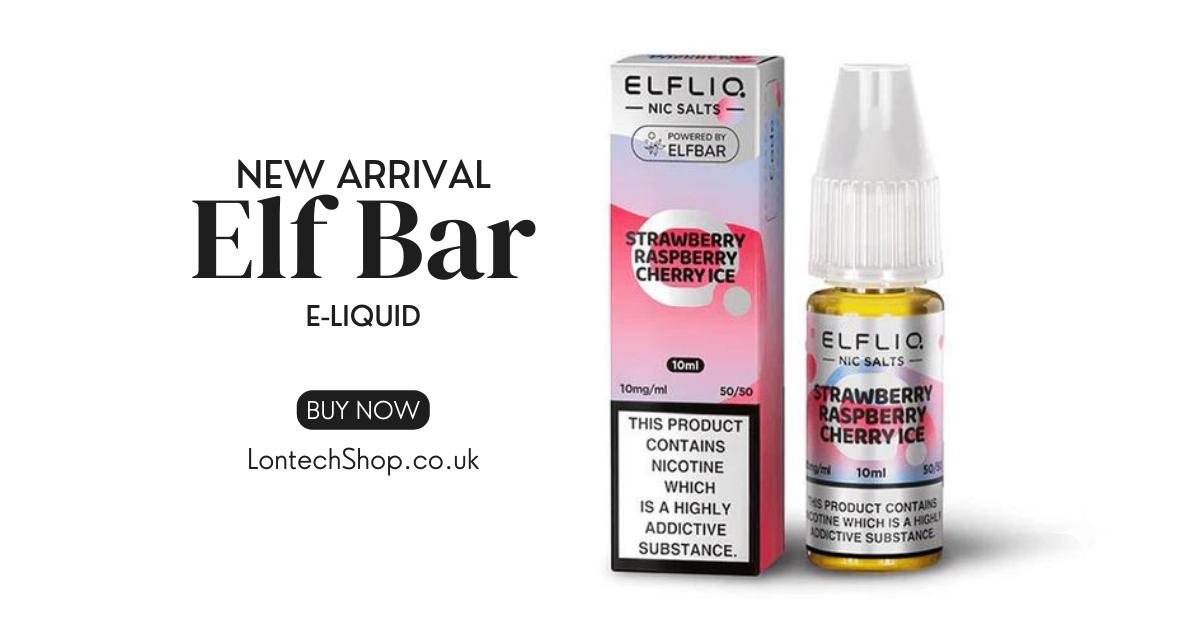 The Elf Bar Elfliq Nic Salt E-Liquid captivates the senses with its intriguing Strawberry Raspberry Cherry Ice flavour. This fusion of deep cherry notes, tangy raspberry, succulent strawberry, and berry creates a symphony of tastes that truly satisfies cravings. With a perfect balance of sweetness and tartness, this e-liquid promises a vaping experience like no other.
Measuring 10ml, this e-liquid Strawberry Raspberry Cherry Ice Nic Salt E-Liquid by Elfliq ensures a generous supply for your enjoyment. Crafted with a 50/50 VG/PG ratio, it proves adaptable to a variety of vaping devices, making it a versatile choice. What's more, the option of UK next working day delivery from Royal Mail ensures you can relish this delectable e-liquid at your convenience.
Elfliq Strawberry Raspberry Cherry Ice E-Liquid
The Elf Bar Elfliq collection caters to diverse preferences, presenting a variety of flavours, including the best flavours of fruity, menthol, and soda-inspired choices. Finding the right e-liquid brand entails exploring different options until you discover the one that perfectly aligns with your vaping style and desires.
For vapers who seek a smoother throat hit, the Strawberry Raspberry Cherry Ice Nic Salt E-Liquid stands as a preferred option. Available in 10ml bottles with nicotine strengths of 10mg and 20mg, it offers a quick and satisfying nicotine delivery system.
Nicotine salts provide fast gratification and a smooth throat hit. This e-liquid, with its 50% VG concentration, is ideal for mouth-to-lung vaping on lower-power devices like vape starter kits and pod vape kits.
Designed specifically for MTL (mouth-to-lung) vape kits and pod devices, the Strawberry Raspberry Cherry Ice Nic Salt E-Liquid by Elfliq is not suitable for sub-ohm usage on low power setting. Its 50/50 VG/PG composition ensures a balanced vape, while TPD-compliant 10ml bottles feature childproof caps and tamper-evident seals for safety. The brand's commitment to eco-friendliness by reducing single-use plastics and batteries adds to its appeal.
Elf Bar Strawberry Raspberry Cherry Ice E-liquid
Vaping, as compared to conventional smoking, is considered a less harmful option. Electronic cigarettes, such as those accompanied by the Elf Bar Elfliq Nic Salt E-Liquid, can aid smokers in transitioning away from traditional cigarettes. However, it's crucial to ensure that these products are not sold to individuals under 18 years old, and comprehensive safety information should be provided to all users in England.
Other elf bar disposables flavour from Elfliq include Apple Peach, Blue Razz Lemonade, Blueberry, Blueberry Sour Raspberry, Cherry, Cherry Cola, Cola, Cotton Candy Ice, Cream Tobacco, Elfbull Ice, Grape, Kiwi Passionfruit Guava, Mango, Peach Ice, Pink Grapefruit, Pink Lemonade, Spearmint, Strawberry Ice, Strawberry Ice Cream, Strawberry Kiwi and elfliq Watermelon. With so many options available, you will surely find an Elfliq nic salt flavour that suits your taste buds perfectly.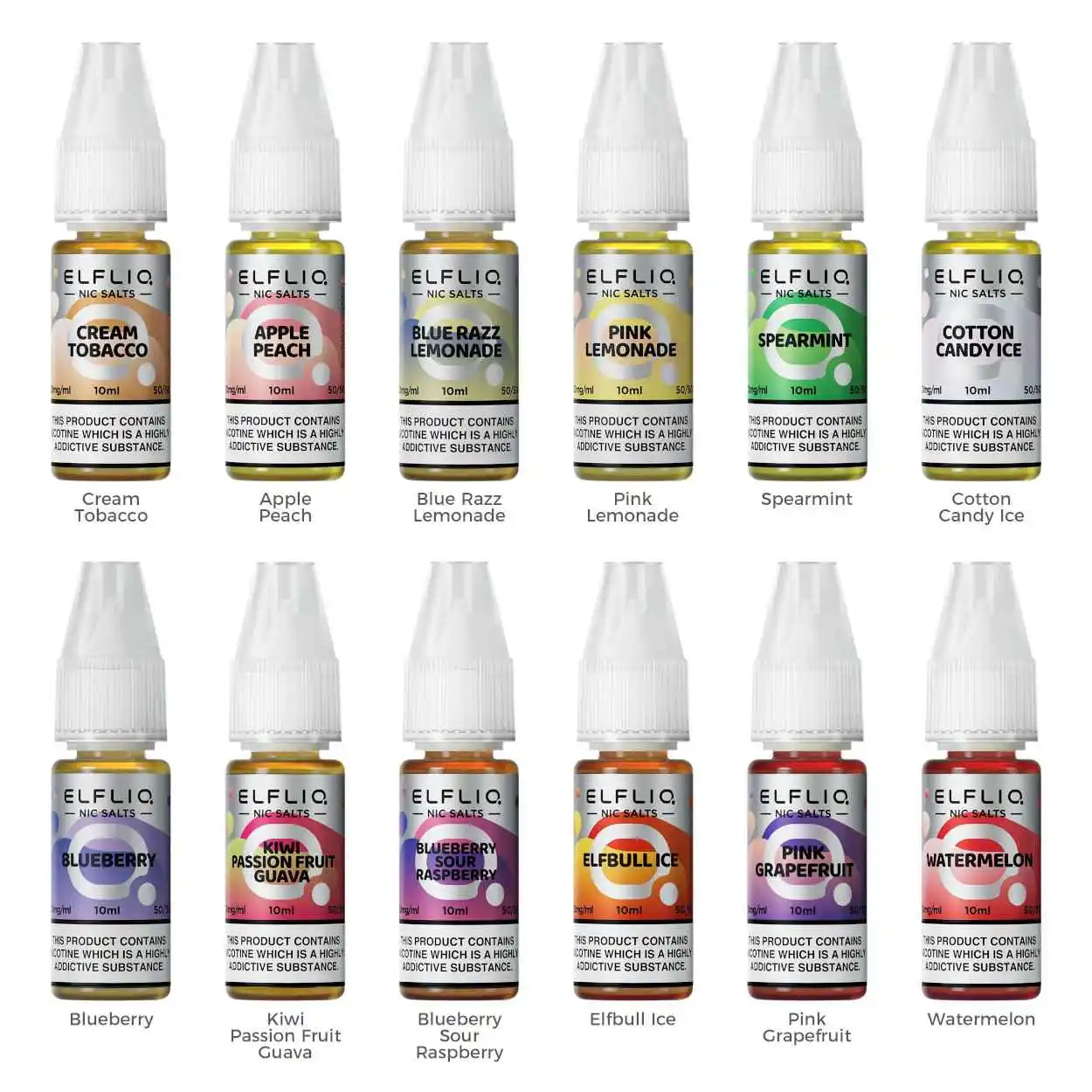 The Benefits of Salt Nicotine E-Liquid
Nic salts are absorbed into the body far quicker than standard e-liquids, providing a faster hit to keep your nicotine cravings at bay. In addition, nic salts eliminate the harsh throaty aftertaste associated with traditional e-liquids.
Nic salts maintain their smooth flavour even when heated by a vaping device. They absorb into the bloodstream in 6-7 seconds, satisfying cravings faster than freebase nicotine. With smoother throat hits at higher strengths, they provide quicker nicotine delivery compared to traditional vape juices made with high-quality ingredients.
All orders from our website for same working day dispatch using royal mail service, or pickup up from our London store.
Lontech shop is the best go-to online vape shop for all your vaping needs, no matter on budget price or your level of vaping experience.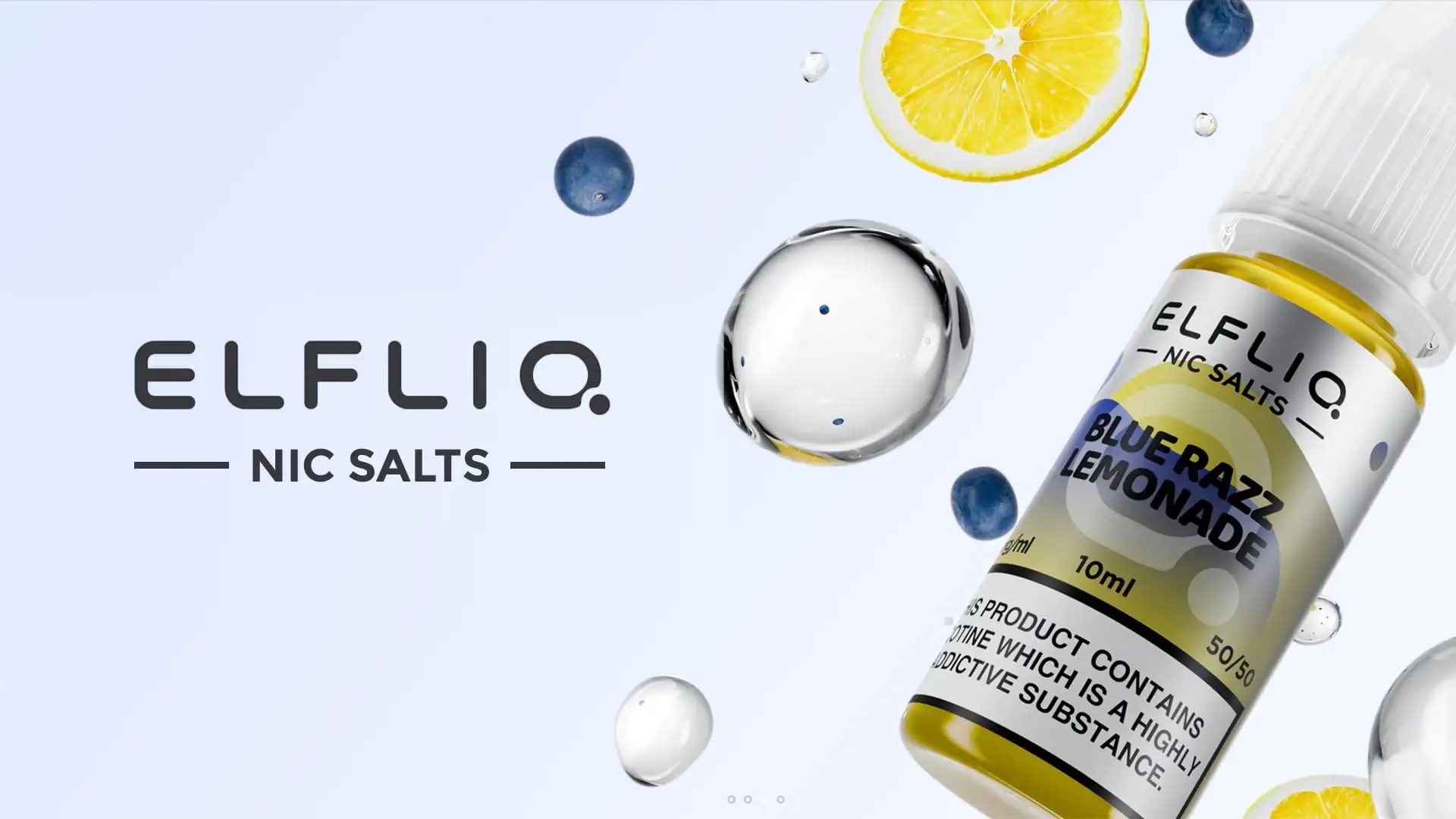 What does Strawberry Raspberry Cherry Ice Elf Bar taste like?
A delightful taste of Strawberry Raspberry Cherry Ice Nic Salt E-Liquid by Elfliq, which combines the sweetness of strawberries, the tanginess of raspberries, and the refreshing flavour of cherries. This e-liquid is infused with a touch of menthol and can be purchased in nicotine strengths of 10mg and 20mg.
Strawberry Raspberry Cherry Ice Nic Salt E-Liquid by Elfliq Near Me
You can find Strawberry Raspberry Cherry Ice Nic Salt E-Liquid by Elfliq in a variety of strengths online and in our vape shop. Other great flavours, including elfliq e-liquids, are also available. You can find the 10 mg and 20 mg salt nicotine strength that you need in order to have a smooth and satisfying vaping experience.

How can I order products from Lontech Vape Shop?
Ordering Strawberry Raspberry Cherry Ice Nic Salt E-Liquid by Elfliq from Lontech Shop is a convenient and easy process that can be completed in just a few simple steps. You can begin by adding the product to your shopping cart, which can be done by clicking on any of the product information or codes.
Once you have added all the products, proceed to checkout and enter your payment details using major debit or credit cards such as Visa and Mastercard. After placing your order, you will receive a confirmation email that includes a tracking number for your shipment.
At Lontech Shop, we are committed to providing our customers with hassle-free online shopping experiences and high-quality products. If you encounter any issues while placing your order or have any concerns, our customer support team is always ready to assist you. We take pride in offering fast and reliable shipping services, with multiple delivery options available during checkout.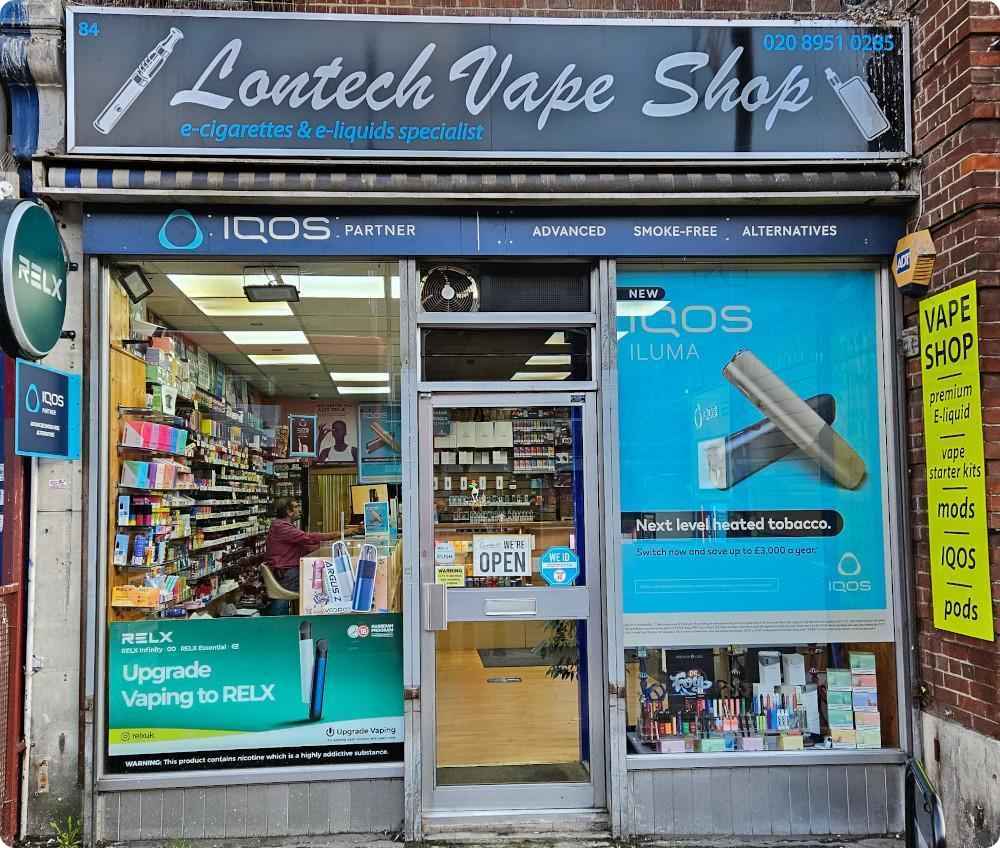 Shipping & Delivery
For customers looking to receive their vape devices quickly, it is essential to place an order before 3:30 pm from Monday to Friday (excluding bank holidays). Doing so ensures that the order will be dispatched on the same day and delivered the next day, subject to availability.
Orders placed after 4 pm on Saturday will only be dispatched on Monday, while orders placed on public holidays will likewise be dispatched on the next working day. It is important to note that orders will not be delivered on Sundays and bank holidays.
This speedy delivery process guarantees that customers can start enjoying their vape devices right away. The company's efficient delivery system factors in possible delays due to unforeseen circumstances like natural disasters or extreme weather conditions.
Customers can have peace of mind knowing that they can expect their orders to arrive promptly, thanks to this well-planned shipping process. Additionally, the company provides regular updates about the status of each order through email notifications and tracking information, allowing customers to stay informed every step of the way.
Age Verification
Our website has an age restriction policy where customers must be 18 years or older to purchase e-liquids and vaping products. It is also important to note that pregnant women, as well as individuals who are intolerant or allergic to propylene glycol or vegetable glycerine, should not use electronic cigarettes, tobacco vaping, tobacco products, cigarette products, or e-liquid.
These products contain chemicals that may pose health risks to certain individuals. It is crucial to read product labels and follow usage instructions carefully before using any of these products. Additionally, users should consult with a healthcare professional if they have any concerns about the safety of using these products.
Warning:
Keep out of reach of children and pets.
Please note this site is restricted to selling only in the UK
If you disagree with any part of these terms and conditions or our privacy policy, please do not use our website
Vape products have nicotine which is an addictive substance. Over time, your brain and body get used to having nicotine, which means you may have nicotine withdrawal symptoms when you quit vaping
The electronic cigarette, it is important to remember, is not a smoking cessation device and non-smokers should not approach this product
Only for use by adults age of 18+
NOT FOR SALE TO MINORS
Talk To A Vape Expert
Please contact our customer service on 0208 951 0285 and we will be happy to help! Contact us on Social media Facebook, Instagram, Twitter, Youtube, or email us.