Relx Pods Near Me
At Lontech Vape shop you will get prime delivery on Relx Pod and pod system, in addition, we have a lot of different types of closed vaping systems.
Their range of impressive e-liquid flavour pods is specially designed to work with the relx pod kit and is sure to be one of the front runners in the pod kit. Relx provides a hassle-free, simple method of vaping perfect for vapers of all experience levels.
The Relx Infinity and Relx Essential run on RELX Pod Pro pods. These cost £7.49 each and contain 1.9ml of nicotine salts vape juice. You have one strength option with the RELX Pod Pro pods 18mg/ml nic salts of e-liquid.
RELX Pods UK
Relx pods are speedy to swap out and do not want to be filled up. The coils also don't need to be changed; simply replace the pod as soon as the liquid has been used.
Whether you are a new or present vaper, by deciding on Relx you can be sure of a notable experience every and every time. the full variety can be bought on our online vape store, and are available at an amazing value price.
Relx pods UK, Relx is a fast growing and innovative vape manufacturer that has created an incredible pod kit and replacement pods.
With an array of flavours and in reality, a satisfying vaping experience, it's no shock they without a doubt took off! Relx is highly dedicated to product quality control, person reliability and satisfaction and of course, definitely tasty flavours! this really shines via the products they've launched to date.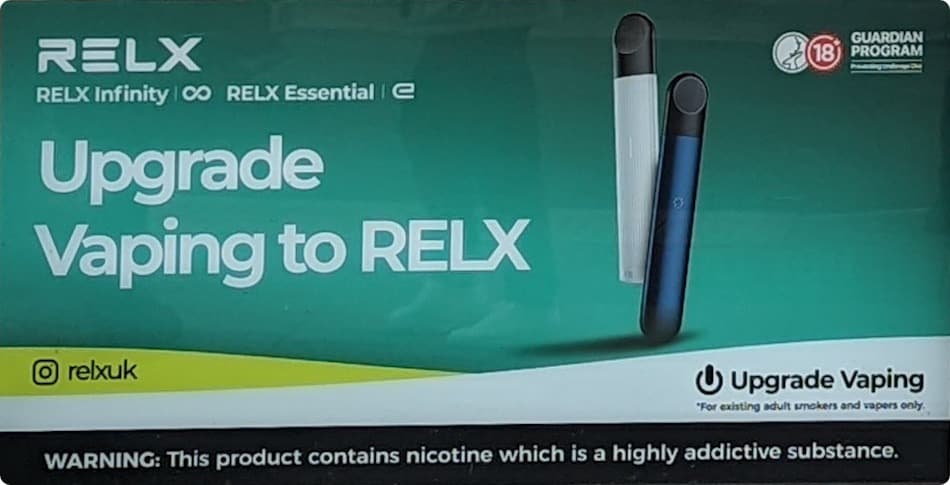 Relx Pods Delivery
All the Rlex pods which have two pods in a pack can be used in the Relx devices infinity and Essential, all replacement pods and devices are available in store or online, with same day dispatch, for next day UK delivery subject to availability.
Pro Pods flavours
Sunny Sparkle
Menthol Plus
Raspy Ruby
Ludou Ice
Tangy Purple
Dark Sparkle
Classic Tobacco
Fresh Red
Cotton Pods flavours
Ruby Burst
Fruit
Fresh Red
Dark Sparkle
Mint
Ludou Ice
Tropical Fruit
Fruit Tea
Classic Tobacco
White Freeze
Tangy Purple
Fresh Red
The Fresh Red flavour delivers the taste of tropical fruit and gives it an icy finish. The distinctive notes of watermelon come through straight away, sweetened further by the menthol on exhale.
Garden's Heart
The fresh aroma of hand-picked strawberries has been perfectly encapsulated and is blended with an 18mg nicotine strength to provide a satisfying vape.
Menthol Plus
Menthol Plus delivers a cooler vape thanks to three distinct mint notes. The combination of wild mint and peppermint has a sweet and spiced taste, complemented by menthol.
Forest Gems
Forest Gems delivers a unique option that plays between sweet and tangy. The combination of strawberry, blueberry and raspberry is given a cool edge by the added menthol.
Tangy Purple
The Tangy Purple flavour combines the sweet notes of dark grape and candy on inhale, which are complemented by an icy mint to finish.
Blue Gems
Blue Gems is a fizzy drink flavour combination. Bold blueberry is mixed with notes of soda and finished with cool menthol.
Golden Slice
Golden Slice keeps things simple, relying on notes of tropical fruit to deliver a sweet vape. The mango that features on inhale and exhale also brings with it a juicy taste.
Crisp Red
A crisp bite from an apple, enveloping the taste buds with that signature sweetness while leaving behind a touch of tartness.
Menthol Plus
Menthol Plus delivers a cooler vape thanks to three distinct mint notes. The combination of wild mint and peppermint has a sweet and spiced taste, complemented by menthol.
Dark Sparkle
The Dark Sparkle flavour takes the classic taste of American soda and gives it a cool twist. A sweet and tangy cola makes up the base of this blend, which is given an icy note by the menthol.
Raspy Ruby
The Raspy Ruby flavour recreates the taste of classic forest fruits and combines it with an icy finish. The sweet and tangy raspberry on inhale is softened and cooled by a layer of menthol.
Zesty Menthol
Zesty Menthol is a frosty citrus vape. Tangy lemon and fragrant lime are cooled down on exhale with icy menthol.
Hawaiian Sunshine
Hawaiian Sunshine takes exotic fruit and gives it a cool twist. From your first vape, you'll detect the sweet and tangy notes of tropical pineapple, they're softened on exhale by the icy menthol.
Rich Tobacco
Rich Tobacco delivers a rich and dark taste with every vape. The woody notes of the leaf are combined with a sweet undertone that comes through on exhale.
Classic Tobacco
The Classic Tobacco flavour delivers, as the name suggests, a woody and dark vape reminiscent of the classic tobacco leaf. A mild sweetness on the exhale helps to cut through the richness of the base.
Orchard Rounds
Orchard Rounds takes the sweet taste of peach and adds icy menthol for a frosted fruit vape.
Classic Tobacco
The Classic Tobacco flavour delivers, as the name suggests, a woody and dark vape reminiscent of the classic tobacco leaf. A mild sweetness on the exhale helps to cut through the richness of the base.
Sunny Sparkle
The Sunny Sparkle flavour is a complex blend of fruit, soda and ice, creating a blend that's ideal for vapers with a sweet tooth. The fresh taste of orange is paired with tangy soda and the coolness of menthol.
Heisenberry
The Heisenberry flavour is a fusion of forest berries and aniseed giving you a full on fruity experience.
Black Twist
Black Twist features the tangy notes of cranberry and blends them with sweet liquorice for a vape with a deep flavour.
Menthol Xtra
Menthol Xtra brings the icy cold taste of the arctic to your vape from start through to frosty finish.
Ice Tobacco
Ice Tobacco is a classic blend of flavours that offers a rich, earthy taste with icy cold menthol in a vape.
Peppermint
Peppermint recreates a note of nostalgia, delivering a cool, yet lightly botanical flavour in each puff.
Relx Vape Devices
There are 3 types of Relx devices Classic, Essential and Infinity.
The Relx classic uses a micro USB cable, but the Relx infinity and essential come with type c cables.
Buy RELX Online
Relx Classic Starter Kit
Relx UK is a fast-growing and innovative vape manufacturer that has created an incredible pod kit and replacement pods. Relx is highly committed to product quality control, user reliability and satisfaction and of course, truly tasty flavours! this really shines through with the products they've launched to date. the Relx pods UK with flavour 2 ml 3pcs prefilled pod is specially designed for the Relx classic starter kit.
Buy RELX Classic Starter Kit Online in London, UK. Lontech Vape Shop introduces the unique and beautiful RELX Classic Starter Kit which comes with a clean and minimalist design. The Classic Starter Kit is a perfect MTL vape device that is absolutely nicotine-friendly with innovative ceramic atomising technology.
RELX Classic Starter Kit is powered by 350 mAh built-in battery and adopts a button less operation, the RELX Classic kit is compact and lightweight to be intuitive and user-friendly.
Plus the 2ml double-sealed liquid pods, the RELX Classic kit is no unpleasant surprise and you will enjoy extremely excellent vaping.
Relx Essential Device
The RELX Essential Battery Device is one of the two latest closed pod systems to be released by RELX. Housed with a rechargeable battery and featuring Super Smooth Technology, the RELX Essential provides a constant and balanced vaping experience. A 350 mah rechargeable battery featuring super smooth technology which offers, optimised draw performance, rich vapour, air boost and active-steam pro. it has no complicated buttons and only requires you to draw on the mouthpiece to fire the device.
Relx Infinity Device
The RELX Infinity device combines a stylish modern design with cutting edge technology. Infinity features a dual-charging system, allowing it to be charged on the go and the RELX Pod Pro pods hold 1.9ml of juice and come in a variety of flavours. A long lasting battery that lasts for roughly 500 puffs per charge is re-charged via a modern easy to insert USB-c port that will fully charge your device in 40min using a high quality 1amp USB wall plug.
Relx Pods Near Me in the UK
All orders placed before 3:30 pm Monday-Friday (excluding bank holidays) are dispatched the same day subject to availability.

Standard Shipping
Royal Mail Signed For 1st Class starts from £2.99
Special Delivery*
Royal Mail Special Delivery Guaranteed by 1 pm is £9.99
Deliveries take up to 1 - 2 working days and are delivered between 8 am - 9 pm (excludes Weekends & Bank Holidays).
*Special Delivery Notes
By selecting this option, you are upgrading the shipping method to the Royal Mail UK Special Delivery Next Day (after dispatch) Service which includes up to £500 compensation for loss or damage. You will receive your order the next working day after we ship it, (which is NOT necessarily the same as the next day after you place your order.) For more information regarding this and other Royal Mail services, please visit the Royalmail website.
Is smoking or vaping better for you?
Vaping Is Less Harmful Than Smoking. E-cigarettes warm nicotine (extracted from tobacco), flavourings and different chemical compounds to create an aerosol that you inhale. Regular tobacco cigarettes comprise 7,000 chemicals, many of which are toxic.
How can I order Relx from Lontech Vape Shop?
If you are looking to order products from Lontech Shop, then you can do so by clicking any product like disposable or vape pens or vape kits one even vape accessories and adding it to the shopping cart and checkout the process to submit your payment information. We accept major credit cards, such as Visa and Mastercard.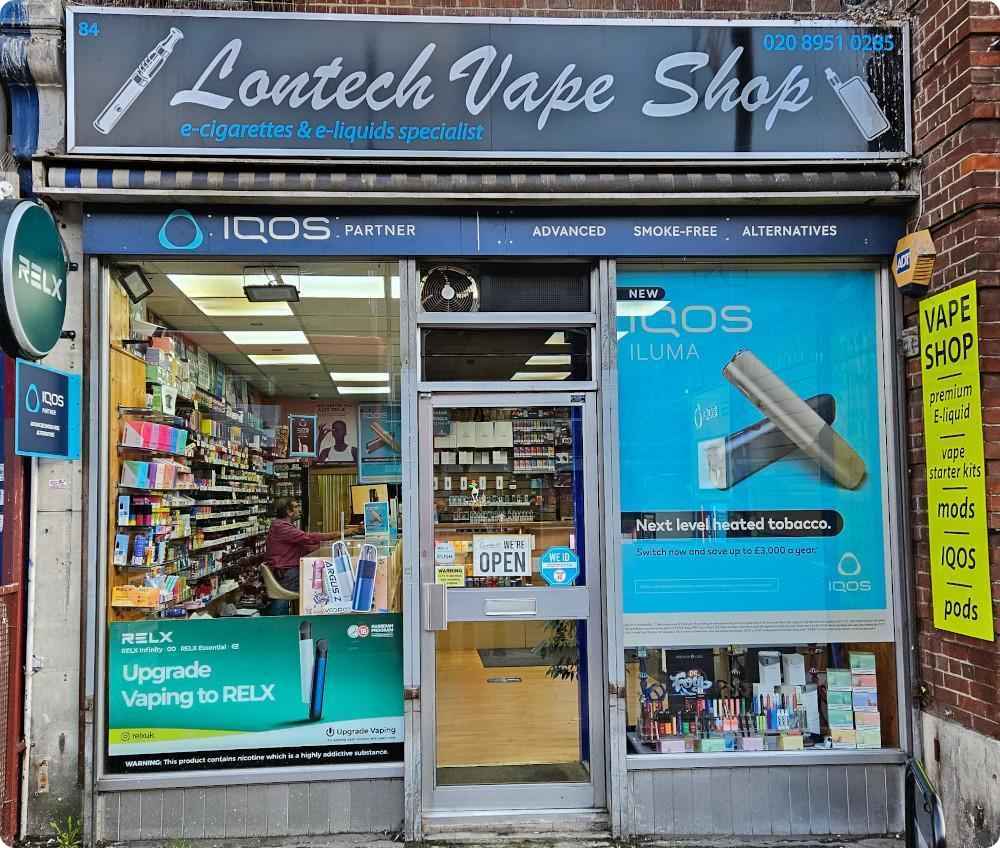 Once your order has been placed, we will immediately send you an email confirmation with the tracking number for your shipment. We hope that you enjoy your experience shopping with us!
Age Verification
You must be at least 18 years of age to buy e-liquids and vaping products from our website.
Electronic Cigarettes and e-liquid should not be used by pregnant women or people who are intolerant or allergic to Propylene Glycol or Vegetable Glycerine.
Warning:
Keep out of reach of children and pets.
Vape products have nicotine which is a highly addictive substance. Over time, your brain and body get used to having nicotine, which means you may have nicotine withdrawal symptoms when you quit vaping.
Only for use by adults age of 18 +
NOT FOR SALE TO MINORS.
Talk To A Vape Expert
Need some advice? Please contact our Relx UK store customer services on 0208 951 0285 and we will be happy to help! or email us.