IQOS HEETS Yellow Selection
Brands:

Yellow Selection 1 pack of heets or carton 10 Packs
Tobacco IQOS sticks
Same working day dispatch
Next working day delivery
IQOS & Heatsticks products are only available for delivery in the Mainland UK.
IQOS HEETS Yellow
The IQOS HEETS Yellow Selection is the slate selection that offers a mellow tobacco blend with zesty aroma notes, made from the finest leaf and produced into small 'sticks', they open up a whole new world of taste and flavour.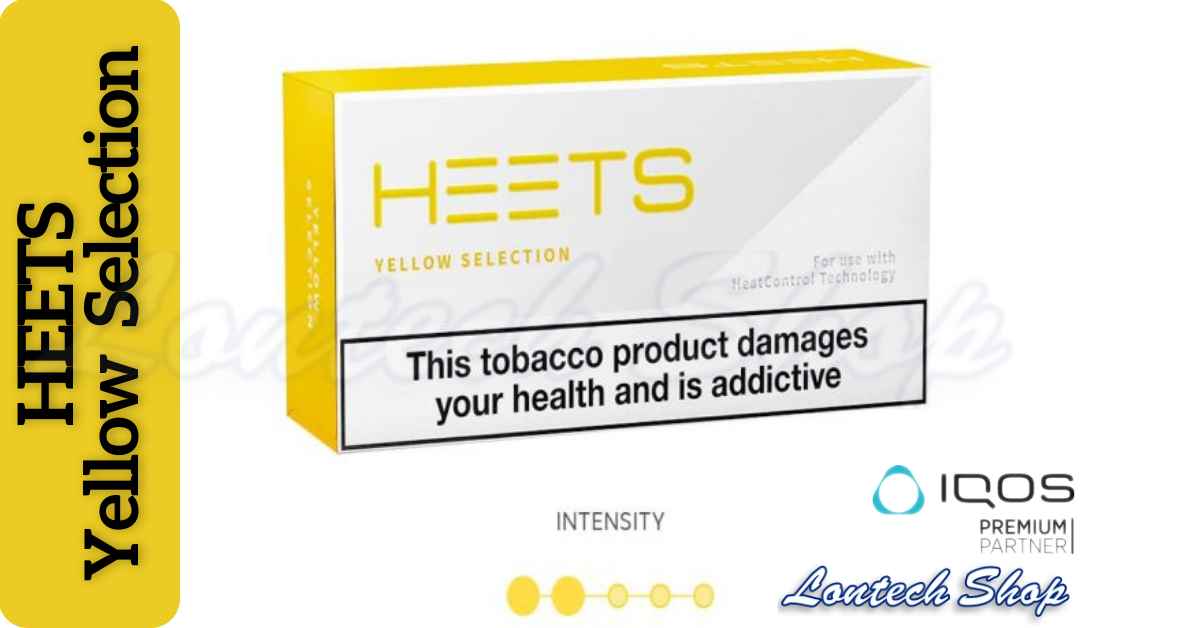 IQOS uses Yellow Selection tobacco sticks to release flavour. Tobacco sticks are readily available to purchase. Each Heets packet contains 20 sticks, with each Iqos stick has a usage time of 6 minutes or 14 puffs which is similar to that of a cigarette.
Simply insert one of the heet sticks of the Yellow selection into the IQOS Holder and press the button until the LED light starts to blink white.
The tobacco sticks are heated to 350°C by the precisely controlled heating element within the IQOS holder, releasing the true taste of tobacco through a nicotine-containing vapour of the Yellow cigarettes, without burning the tobacco or generating smoke and no ash.
A 2018 Public Health England report includes evidence that indicates Heated tobacco products (HTPs) may be safer than conventional cigarettes, but less safe than e-cigarettes.
There are 10 different variants of flavour notes which can be purchased in a single pack or in carton box containing 10 packs (200 HEETS) are available online for same working day dispatch for next day delivery Monday to Friday, we use Royal mail services on all our delivery. Check delivery information.
IQOS Partner North London
Lontech Shop is an official IQOS partner in North London All IQOS device, kits and accessories are available online or in store. Our opening times are Monday - Saturday 10:00 - 19:00, and Sunday Closed.
IQOS HEETS Yellow Selection Near Me
Lontech Vape Shop stocks Yellow HEETS stick and other favours, vape Kits, disposable vapes, and ePod are available online for next-day delivery or in our London UK store. Why not try IQOS Menthol Heets Multi Pack & IQOS Tobacco Heets Multi Pack flavoured multi pack is the best alternative for attempting exceptional Mint / Menthol and Tobacco flavours to locate your perfect flavour.

The benefits of IQOS heat-not-burn technology
Real tobacco smoke free, no ash, less smell. IQOS produces a satisfying tobacco vapour, not smoke.
It does not require a lighter and produces no ash. However, This is not risk free and delivers nicotine which is addictive.
Real tobacco taste. No liquid. Unlike a vape product, which uses liquid, IQOS is an electronic device that heats real tobacco for a more satisfying taste more less like smoking cigarettes.
IQOS products are for UK delivery only. Any orders for delivery outside of the UK will be cancelled.

Buy HEETS Yellow Online
Tobacco Shop London, Lontech Shop stocks Heat Not Burn Devices UK, IQOS Starter Pack IQOS 3 DUO (IQOS DUO).
IQOS HEETS stockists in different favours like heets Yellow label, Blue, Sienna, Turquoise, Green, Sienna Caps, Teak and Russet HEETS.
All IQOS HEETS are now priced at just £5.50 per pack too!
We sell IQOS HEETS in single packs, packs of two, packs of five and cartons of ten.
All of our HEETS are genuine so you can make a purchase in full confidence that these are indeed the real deal!
Also, we are official IQOS sellers and all of our products come directly from the manufacturer so you can purchase from us with complete confidence.
HEETS Yellow UK
There are many sticks flavours made for the UK market, HEETS Yellow cigarettes are one of the top sellers in-store and online.
At Lontech Vape shop where you can find Heets for sale at excellent prices, Lontech Shop stocks all the UK I Q O S tobacco stick.
We Stock all heets tobacco stick flavours like Amber, Yellow, Blue, Teak and more for same day UK dispatch.
Lontech shop E-cigarette and vape shop specialists offer a wide range of Heets sticks. All Heets are reachable in 1 Pack, two packs, 5 Packs and cartons of 10 packs of heets tobacco sticks. on line or prepared for select up from our London store.
IQOS Yellow review nicotine level is between Heets Yellow selection and tobacco blend of sienna selection.
Each tobacco stick contains 0.5mg of nicotine. How Many sticks in 1-Pack? Each pack contains 20 sticks, 10 packs of Yellow Selection (200 sticks), made with specially selected tobacco.
What are the different Flavours of HEETS?
The HEETS range of tobacco products comes in a variety of flavours, including Sienna, Amber, Turquoise, Yellow, and Purple. Each flavour has its own unique taste and aroma. All HEETS flavours contain nicotine and are designed to be used with heated tobacco devices.
Which Heets are strongest?
Hits Russet has the most intense flavour. The smell, by the way, as it seemed to me, is stronger from it than from other brands. Even to taste stronger than the standard Blue Parliament. Buy HEETS online UK, all Heets are available in store for pickup at excellent prices or online for UK delivery.
Amber Selection
Amber HEETS offers a rounded, toasted blend with light woody and nutty aroma notes. Amber tobacco sticks are simply available to buy online or at our store.
Sienna Selection
Sienna HEETS offers a rounded, toasted blend with woody and light tea aroma notes. Sienna tobacco sticks are so popular we always stock them in our store or can be obtained online.
Teak Selection
Teak HEETS offers a toasted blend with nutty aromas. IQOS Teak Selection tobacco sticks are easily available to be picked up at our store or online.
Turquoise Selection
Turquoise Selection offers a lightly toasted blend providing a crisp menthol cooling sensation and zesty aroma notes. Turquoise Selection tobacco sticks are available to purchase online or at our London store.
Blue Selection
Blue Selection offers a mellow blend providing a deep menthol cooling sensation and peppermint aroma notes. Blue Selection tobacco sticks are continuously available to purchase online or at our store.
Green Selection
Green Selection is a lightly toasted blend providing a balanced menthol cooling sensation enriched by green minty aroma notes. Green Selection tobacco stick are always available to purchase online or at our store.
Sienna Caps
Sienna Caps offers the rounded, toasted tobacco blend of Sienna Selection with its woody and light tea aroma, which is a click that delivers a cooling menthol sensation with notes of zesty mint. Sienna Caps tobacco stick are available to purchase online or at our store.
Russet Selection
Russet Selection offers a rich toasted blend with malty aromas and bold taste. IQOS Russet Selection tobacco sticks are available at our London store or purchase online.
Mauve Wave
Mauve offers a crisp menthol tobacco blend with a taste of dark forest fruits. Mauve Wave tobacco sticks are readily available to purchase online or at our I Q O S UK store.
Is smoking or vaping better for you?
Vaping Is Less Harmful Than Smoking. E-cigarettes warm nicotine (extracted from tobacco), flavourings and different chemical compounds to create an aerosol that you inhale. Regular tobacco cigarettes comprise 7,000 chemicals, many of which are toxic.
Can I Q O S help quit smoking?
Will IQOS assist me to quit smoking? No. I Q O S is now not a smoking cessation device or meant as a device to end smoking.
If you are concerned about the fitness effects of smoking, your first-class option is to quit tobacco use altogether.
I Q O S system is a smoke free product for adults who would otherwise continue to smoke or use other nicotine products.
How can I order products from Lontech Vape Shop?
If you are looking to order products from Lontech Shop, then you can do so by clicking any product and adding it to the shopping cart and checkout the process to submit your payment information. We accept major credit cards, such as Visa and Mastercard.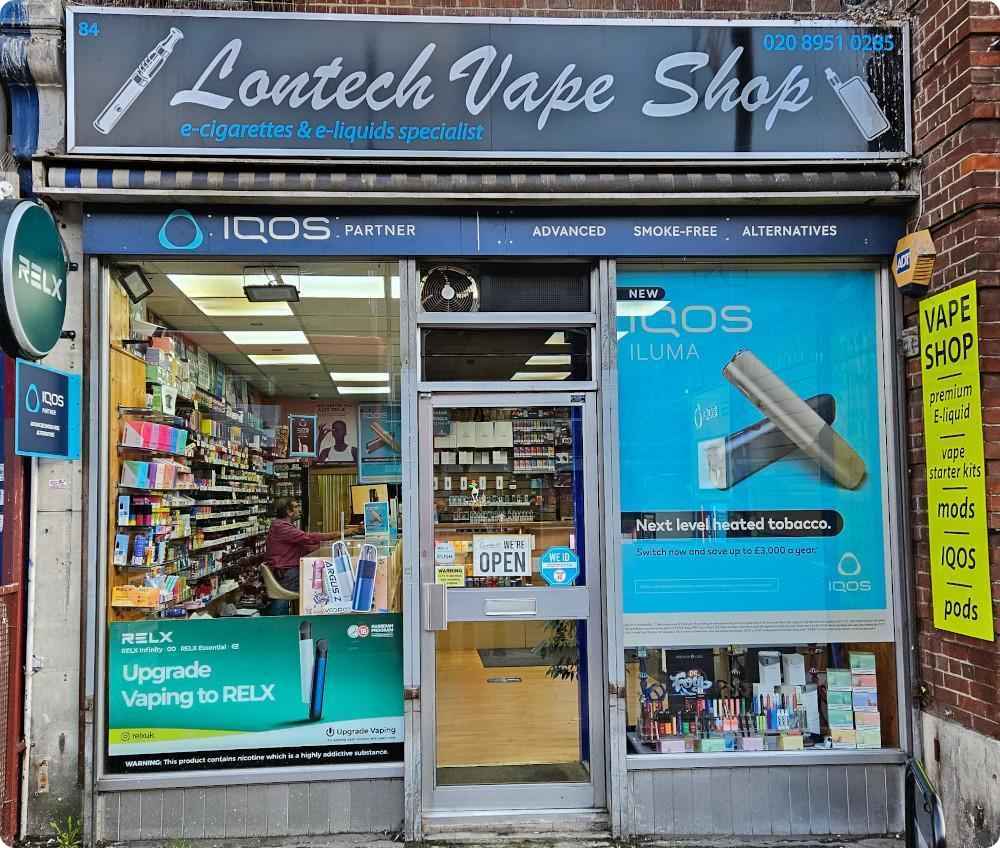 Once your order has been placed, we will immediately send you a shipping confirmation email with the tracking number for your shipment. We hope that you enjoy your experience shopping with us!
PMI's smoke free products are not risk free and contain nicotine which is addictive. Switching to a smoke-free product is, however a better choice. Also called heated tobacco products, are electronic devices that heat tobacco.
Age Verification
You must be aged 18 years old legal age to buy e-liquids and vaping products from our website.
Electronic Cigarettes, tobacco products and e-liquid should not be used by pregnant women or people who are intolerant or allergic to Propylene Glycol or Vegetable Glycerine.
Warning:
Keep out of reach of children and pets.
Vape products have nicotine which is addictive. Over time, your brain and body get used to having nicotine, which means you may have nicotine withdrawal symptoms when you quit vaping.
Smoke free products are "iqos", "heets", "marlboro", and "heatsticks" which are registered trademarks of pmi (phillip morris international inc.) not risk free and contain nicotine which is addictive. Switching to a smoke-free product is, however, a better choice. Also called heated tobacco, are electronic devices that heat tobacco.
Only for use by adult smokers
NOT FOR SALE TO MINORS.
Talk To A Vape Expert
Need some advice? Call our customer service on 0208 951 0285 and we will be happy to help!
Benefits of giving up smoking
Why not read about the benefits of giving up smoking? read for more important information about public health England, PMI's research HERE
We found other products you might like!