Brands:

Sienna 1 pack of TEREA or carton 10 Packs
IQOS tobacco sticks for Iluma NOT Compatible with IQOS Originals Duo
Same working day dispatch
Next day delivery
IQOS & Heatsticks products are only available for delivery in the Mainland UK.
IQOS TEREA Sienna Iluma Sticks
In a world where technology is constantly advancing, innovations in the tobacco industry have led to the creation of a new and exciting stick – the IQOS TEREA Sienna.
This cutting-edge product offers smokers a unique and enjoyable vaping experience like never before.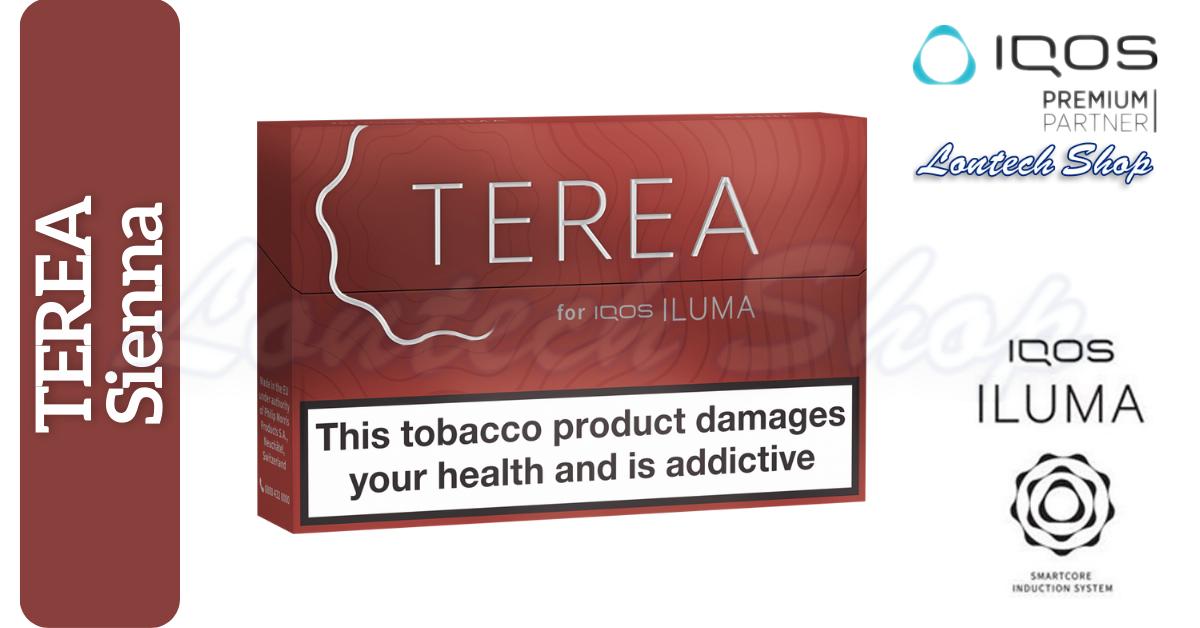 With its state-of-the-art heating technology and sleek design, the IQOS TEREA Sienna has taken the market by storm, leaving tobacco enthusiasts craving for more.
The sticks are equipped with the latest tl technology, making them a must-have for anyone looking for a premium vaping experience.
Compared to previous IQOS generations, the IQOS TEREA Sienna offers improved performance and a more satisfying experience.
In this article, we will explore the features, benefits, and overall experience that this device provides, giving you a comprehensive understanding of why it's a game-changer for smokers.
Additionally, we will discuss the insights gained from PMI's market research on the IQOS TEREA Sienna.
The Smartcore Induction System: Elevating Your Vaping Experience
At the heart of the IQOS TEREA Sienna lies the revolutionary Smartcore induction system, which includes the new TEREA Smartcore stick for terea tobacco sticks.
This innovative heating technology sets it apart from its predecessors, as it provides a more consistent experience and satisfying experience for users.
Unlike traditional smoking methods, the Smartcore system heats the tobacco from within the TEREA stick without burning it using bladeless devices.
Philip Morris International (PMI) is the company responsible for bringing the IQOS Sienna to the market. As a leader in the tobacco industry, PMI has put extensive research into developing these revolutionary Iluma sticks.
According to pmi's market research, the Sienna provides a more pleasurable experience compared to previous generations of IQOS devices, making it a significant leap forward in tobacco innovation.
This process ensures a cleaner way of smoking by ensuring that there is no tobacco residue left behind, eliminating the need for device cleaning.
The IQOS Iluma devices offer a smoke-free experience, with no combustion or unpleasant smells.
Enjoy tobacco without carrying an ashtray or dealing with inconveniences, and take advantage of our Fast delivery option for added convenience.
The tobacco blend is roasted to perfection, providing smokers with a satisfying and flavorful alternative to traditional cigarettes.
Each pack of TEREA sticks contains 20 sticks, with approximately 14 puffs per stick, ensuring a delightful and consistent woody taste experience.
The TEREA Sienna is a significant advancement in the iluma range of devices, featuring the new IQOS iluma devices, including the iluma prime. With the TEREA smartcore stick and the auto-start function of the bladeless IQOS iluma device, users can now enjoy a seamless and convenient vaping experience.
The bladeless design of the IQOS TEREA Sienna, which utilizes bladeless, ensures that the tobacco is heated from the core, guaranteeing a consistent and pleasurable experience every time.
It is important to always use the chargers and charging LED that comes with the IQOS Iluma kit. Using third-party chargers or accessories can potentially damage the device and affect its performance. The manufacturer designs the kit's components to work together seamlessly, and using any other charging equipment may void the warranty or cause safety hazards. Therefore, it is recommended to stick to the original parts provided with the kit for optimal performance and safety.
IQOS TEREA Sienna Near Me
Lontech Vape Shop stocks TEREA Sienna and other favours and IQOS Kit are available online for next day delivery or can be picked up from our London store.

Key Features of IQOS TEREA Sienna
Introducing the TEREA Sienna from Lontech Shop - a sleek and compact product that revolutionizes your tobacco experience.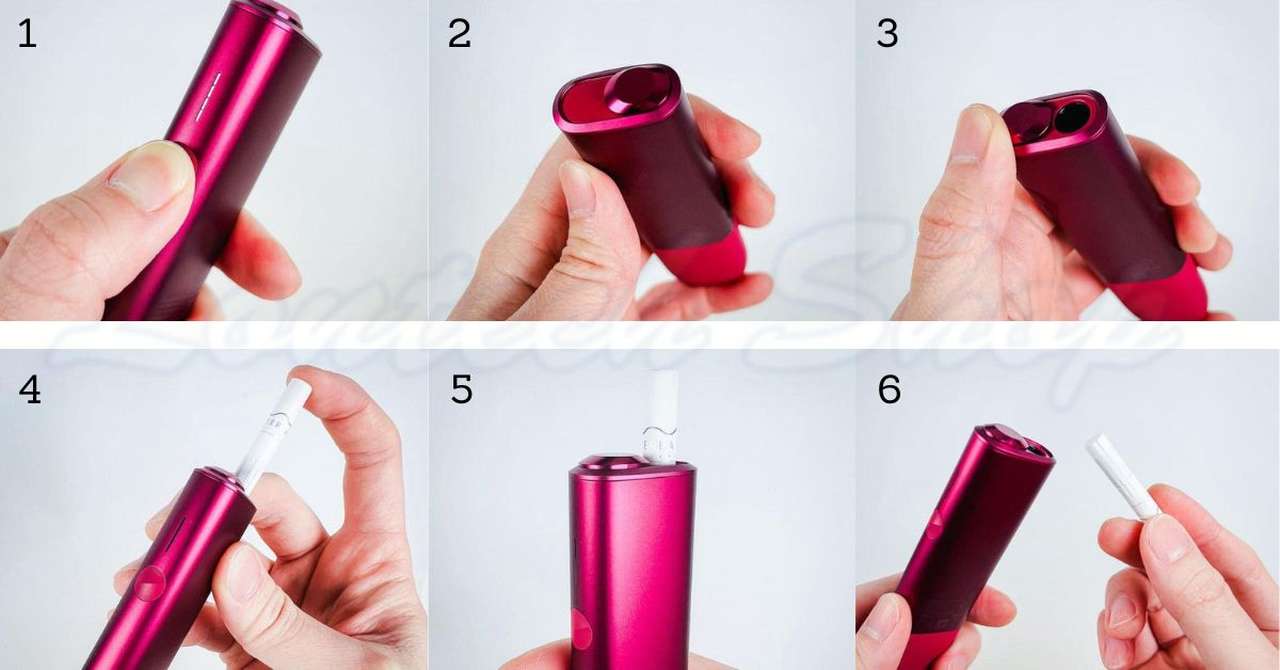 What is the IQOS TEREA Sienna?
It is a tobacco stick to be used in Iluma Devices that heats tobacco instead of burning it, providing users with a smoke-free alternative to traditional cigarettes. It works by heating specially designed tobacco sticks, it produces a flavourful nicotine-containing vapour without combustion, ash, or smoke.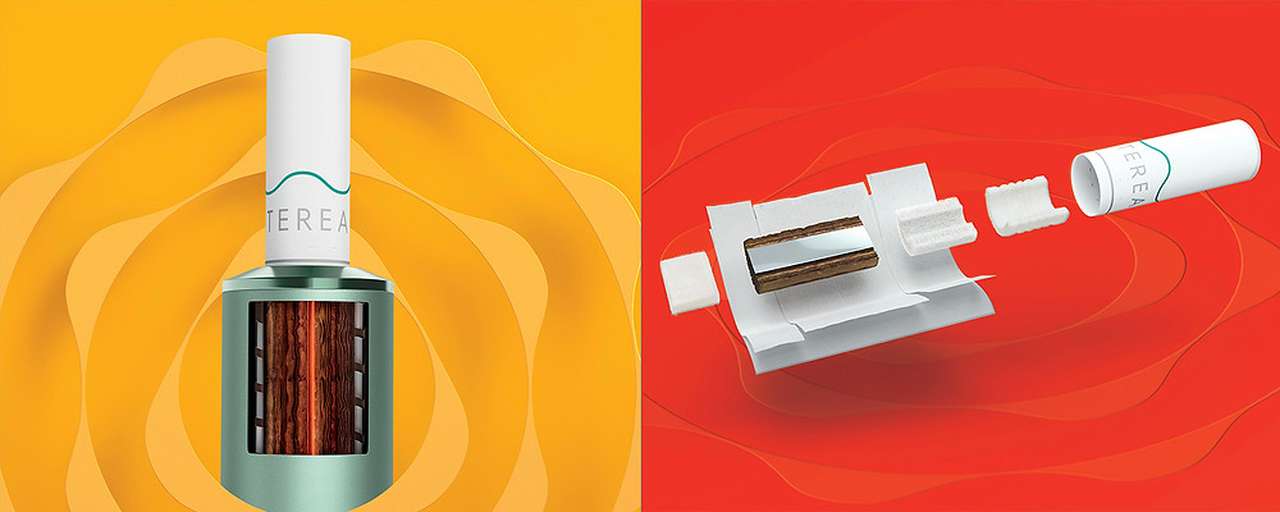 The device's innovative technology prevents overheating and guarantees a consistent performance, while users have the freedom to customize their venture with various flavours and nicotine strengths.
Choosing TEREA Sienna Aroma over other IQOS HEETS
Lontech Vape Shop proudly presents TEREA Sienna a mild, aromatic tobacco blend with light, spicy aroma notes, setting itself apart from other IQOS HEETS with its unique flavour profile. The IQOS IQOS ILUMA heating mechanism is unique in that it uses a Smartcore Induction System to warm the tobacco from within the Terea sticks.
Users prefer it for its smooth and satisfying tobacco experience, complemented by its balanced blend of flavours, making it a popular choice among tobacco enthusiasts.
The use of TEREA Sienna adds an extra layer of complexity to the overall vaping experience, making it even more enjoyable for users.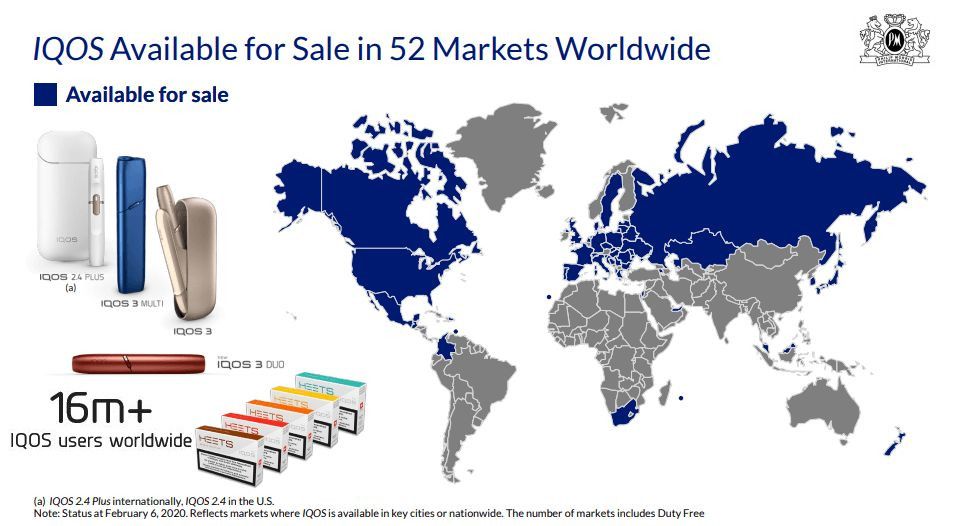 Designed to enhance the overall IQOS experience, TEREA Sienna's distinctive tobacco blend offers a more intense and satisfying flavour, providing a smoother and more pleasurable experience compared to other flavours available.
With its unique blend, TEREA Sienna is the perfect choice for those seeking a rich and robust taste, while minimizing the risk of serious injuries associated with traditional smoking methods.
What is IQOS TEREA Sienna?
TEREA Sienna is a variant of the IQOS device, a heated tobacco system. It delivers a satisfying and flavorful tobacco experience without smoke, ash, or lingering smell. Sienna Terea features well-rounded, roasted tobacco with woody undertones and gentle tea fragrances.
How can I order products from Lontech Vape Shop?
If you are looking to order IQOS TEREA Sienna Iluma Sticks from Lontech Shop, then you can do so by clicking any product information or product code and adding it to the shopping cart and checkout, the process to submit your payment information. We accept major credit cards, such as Visa and Mastercard, and our products do not contain harmful substances such as tar, smoke, or ash.
In the unlikely event one or more of your eliquids leak before taking delivery of your order, please let us know within 3 working days so we can promptly resolve any issues. If your liquid vessel has been breached, we would advise against use due to the risk of contamination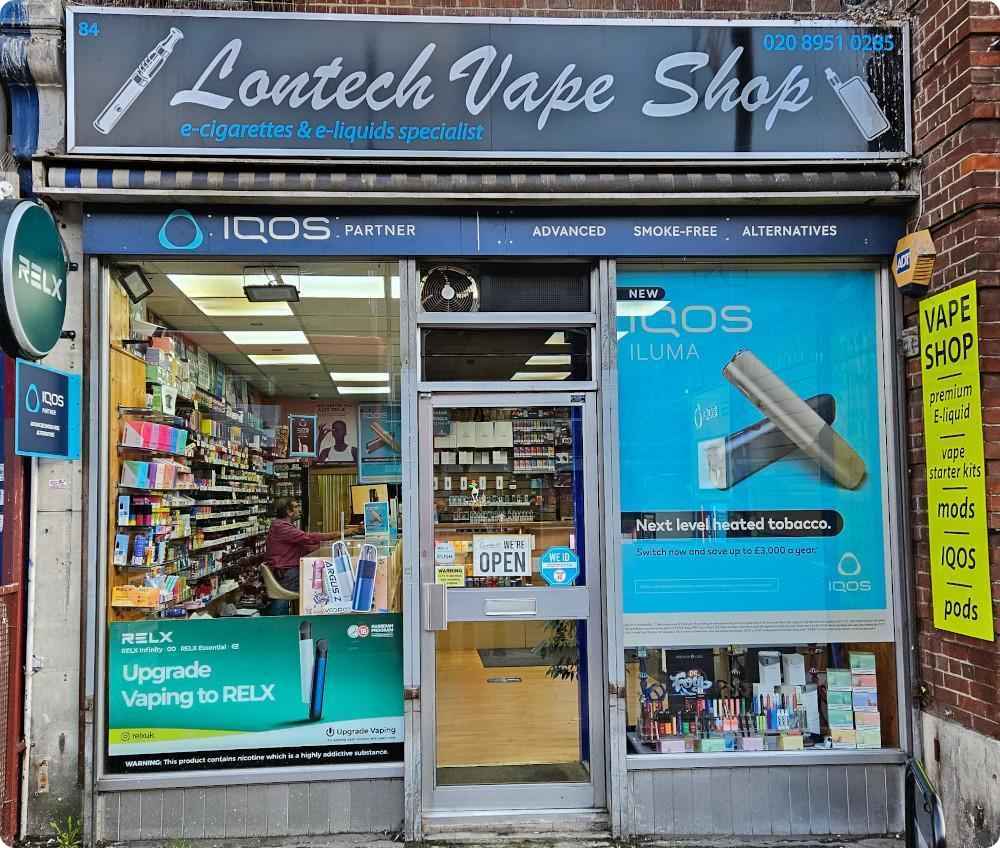 Shipping & Delivery
Once the purchase is received, we will immediately send you a shipping confirmation email with the tracking number for your shipment. We hope that you enjoy your experience shopping with us! Orders placed on Saturday & Sunday will only be dispatched on Monday, while orders placed on public holidays will likewise be dispatched on the next working day. It is important to note that orders will not be delivered on Sundays, bank holidays, or Sunday deliveries. For guaranteed next day delivery, please select one of our DPD Courier options.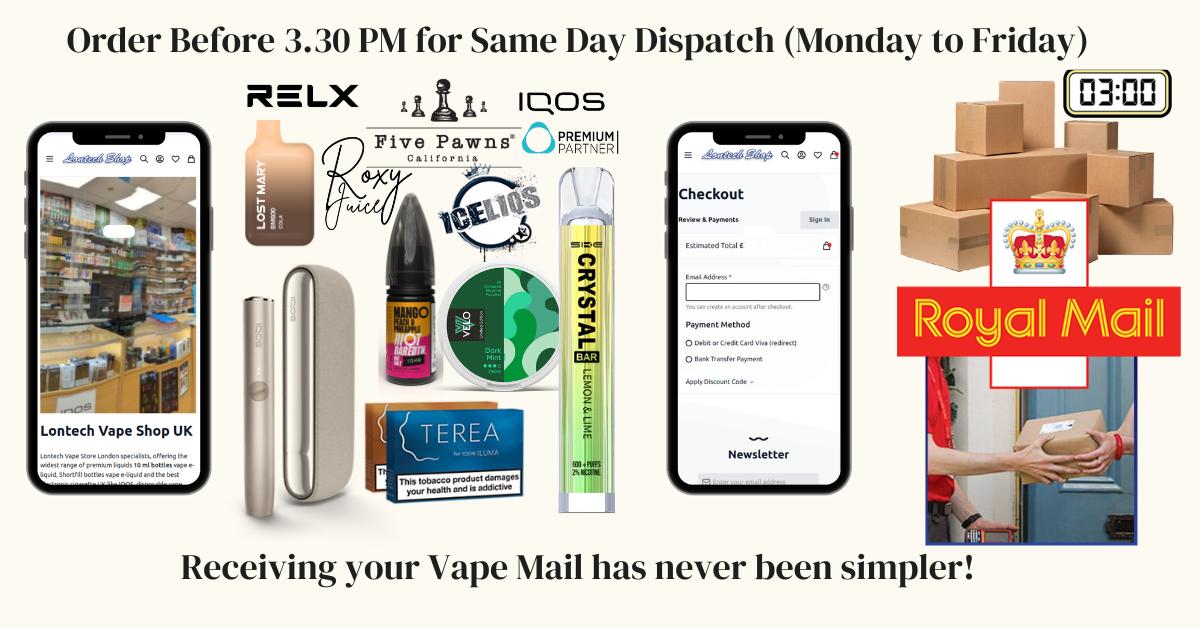 Same day Dispatch
Order your starter kit today for fast UK delivery and free shipping on all parcels! cheap pricing & wide range of tobacco sticks to do your shopping. All orders placed before 3:30 pm Monday - Friday (excluding bank holidays) are dispatched the same working day subject to availability. Orders placed on Saturday may arrive on a Sunday with Royal Mail due to their 7-day-a-week service, otherwise, all weekend dispatched orders will arrive on Monday in plain, unbranded jiffy bags.
Standard Shipping (Standard Delivery option)
Royal Mail Signed For 1st Class starts from £2.99, and orders made to a BFPO (British Forces post office) address must be delivered using Royal mail.
We do not use UPS International services, DPD Courier and Royal Mail International, we send all orders via Royal Mail Tracked service Estimated delivery time is between 1 and 3 days, depending on the size of the package Estimated delivery time is between 3 and 5 days. For guaranteed next day delivery, please select Next Working Day Guaranteed by 1 pm.
If a Bank Holiday falls on a weekday, normal service will resume on the next working day. For example, if a Bank Holiday falls on a Monday, regular operations will resume on Tuesday. This applies to businesses and organizations that observe Bank Holidays, such as Post offices.
On infrequent occasions, Next Day Delivery can be affected by operational issues with our partners and may arrive later than planned. We cannot be held responsible for operational issues with our partner services but will operate in line with their policies.
If any orders are returned by the courier services mail company due to an incorrect address, unfortunately, you will incur additional delivery charges in order for us to re-ship to you.
Our returns address is included on the label in a very small font for insurance & legal purposes, this does contain our company name 'Lontech'.
Special Delivery* Next day delivery services
Royal Mail Special Delivery Guaranteed by 1 pm is £9.99
For deliveries to the Scottish Highlands, Scottish Islands, Northern Ireland, Isle of Man, Scilly Isles, and Isle of Wight & Jersey, please allow 2 to 5 days. (subject to customs clearance/ customs duties ). We do not offer International orders.
Age Verification
You must be aged 18 years old to buy e-liquids and vaping products from our website.
Electronic Cigarettes, vaping, tobacco products, cigarette products and e-liquid should not be used by pregnant women or people who are intolerant or allergic to Propylene Glycol or Vegetable Glycerine.
Warning:
Keep out of reach of children and pets.
Please note this site is restricted to selling only in the UK.
If you disagree with any part of these terms and conditions or our privacy policy, please do not use our website.
The electronic cigarette, it is important to remember, is not a smoking cessation device and non-smokers should not approach this product.
Only for use by adults age of 18 +
NOT FOR SALE TO MINORS.
Customer Service
Please contact our IQOS customer service on 0208 951 0285 and we will be happy to help! contact us on social Facebook Instagram Twitter Youtube or email us.
We found other products you might like!
As low as

£29.00

Regular Price

£39.00

As low as

£49.00

Regular Price

£69.00