Only %1 left
SKU
iqos-terea-mauve-wave
Brands:

Mauve Wave 1 pack of TEREA or carton 10 Packs
IQOS tobacco sticks for Iluma NOT Compatible with IQOS Originals Duo
Same working day dispatch
Next day delivery
IQOS & Heatsticks products are only available for delivery in the Mainland UK.
IQOS TEREA Mauve Wave Iluma Sticks
The IQOS TEREA Mauve Wave is more than just a smoking tobacco stick it's a revolution in the world of tobacco consumption. With its sleek design and advanced technology, this innovative device offers a cleaner and more consistent smoking experience, setting it apart from other similar products in the market.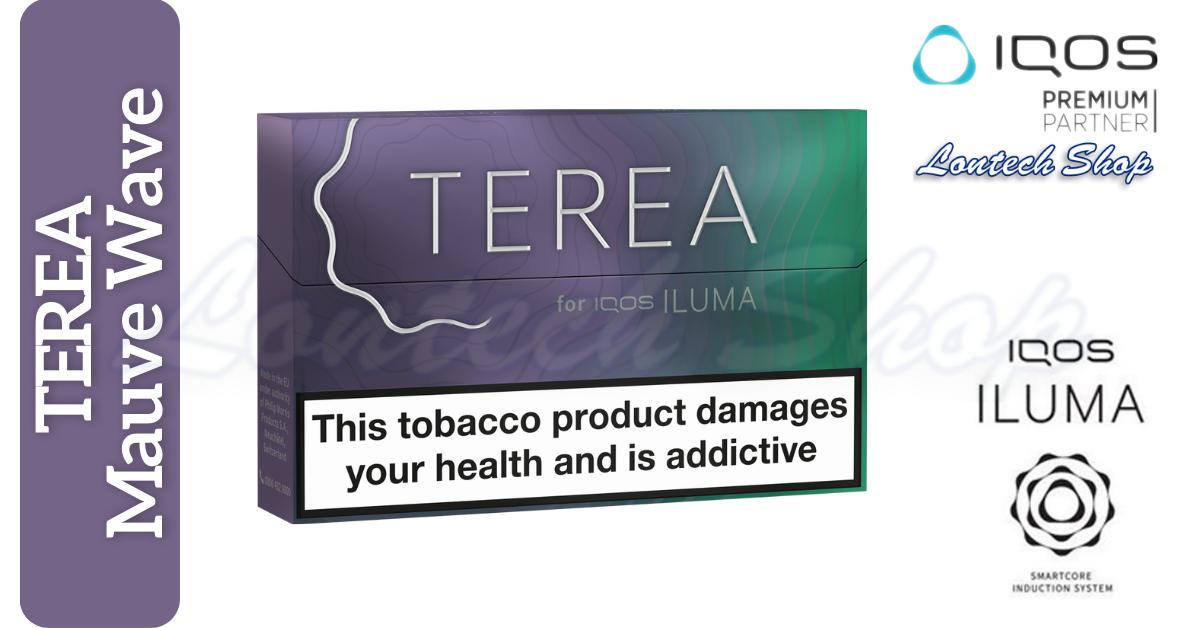 The IQOS TEREA Mauve Wave boasts a unique tobacco blend with a delightful twist. Infused with refreshing menthol cooling sensations and a mild forest fruit aroma, this tobacco blend with tobacco sticks offers a rich, fruity taste experience like no other.
Designed exclusively for use with IQOS iluma devices, each pack contains 20 TEREA SmartCore sticks, providing a satisfying and flavourful option for those who enjoy menthol in their smoking experience. A tobacco blend infused with crisp menthol cooling sensations & indulgent dark forest fruit aroma nuances.
One of the standout features of the IQOS TEREA Mauve Wave is its bladeless design, utilizing innovative bladeless devices. Unlike traditional methods that involve burning tobacco, it employs an innovative heating technology known as the SmartCore induction system.
The SmartCore stick heats the tobacco from within without causing combustion, leaving no tobacco residue behind. This not only ensures a cleaner way to enjoy, but also eliminates the need to clean the device after use.
The IQOS TEREA Mauve Wave is a great option for those who want to enjoy heat tobacco without the harmful effects of smoking.
A Pleasurable and Consistent Experience
PMI's market research reveals that the IQOS TEREA Mauve Wave, with its advanced technology and design, including pmi's market research, offers a more pleasurable and consistent experience compared to previous IQOS generations, providing a more consistent experience.
By heating tobacco from the core without burning it, the device generates no combustion or smoke, resulting in a smoother and more enjoyable smoking alternative. The bladeless design contributes to the overall convenience, making it an attractive choice for tobacco enthusiasts.
Embracing SmartCore Induction
The IQOS TEREA Mauve Wave's SmartCore induction system, featuring the new TEREA SmartCore stick, is the heart of its exceptional performance. The specially designed SmartCore sticks, made exclusively for use with the new IQOS iluma devices, ensure a seamless experience. The device features an auto-start function that activates when the TEREA stick is inserted, providing users with a hassle-free and enjoyable tobacco heating experience.
It has garnered positive feedback from customers who have experienced its excellence, making smoking a more pleasurable experience. Praised for its quality and flavour, it has proven to be a popular choice among tobacco enthusiasts. If you have any questions or need assistance, the dedicated customer service team is always available to help.
Elevate Your Smoking Experience with IQOS TEREA Mauve Wave
The Mauve Wave stick is a game-changing smoking. With its innovative SmartCore induction system and modern design, it offers a cleaner and more enjoyable alternative to traditional methods. Say goodbye to tobacco residue and lingering smoke, and say hello to a pleasurable and consistent smoking experience.
Upgrade your smoking ritual today with the TEREA Mauve Wave. Discover the refreshing menthol cooling sensations and delightful forest fruit aroma in each puff. Embrace the convenience and sophistication of this innovative device, and let it redefine your smoking experience. Choose Mauve Wave, and experience tobacco heating like never before.
IQOS TEREA Mauve Wave Near Me
Lontech Vape Shop stocks TEREA Mauve Wave and other favours and IQOS Kit are available online for next day delivery or can be picked up from our London store.
Our TEREA multipack tobacco flavours offer a unique blend of different packs of five distinct flavours, including Amber, Teak, Russet, Sienna, and Yellow. Each pack contains a different flavour, allowing you to explore and discover your favourite one. These multipacks are perfect for those who enjoy the taste of tobacco and want to try something new. With a variety of flavours to choose from, you can enjoy a different smoking experience every time.

Currently, Sticks are Yellow, Amber, Sienna, Teak and Russet. Menthol are 5 variants of flavours Turquoise, Blue, Green, Briza Pearl and Mauve
Key Features of IQOS TEREA Mauve Wave
Introducing the TEREA Mauve Wave from Lontech Shop - a sleek and compact product that revolutionizes your tobacco experience.
Enjoy a cleaner and more consistent way to enjoy tobacco by heating specially designed sticks, like the terea stick, at controlled temperatures. A flavourful nicotine vapour without combustion or smoke.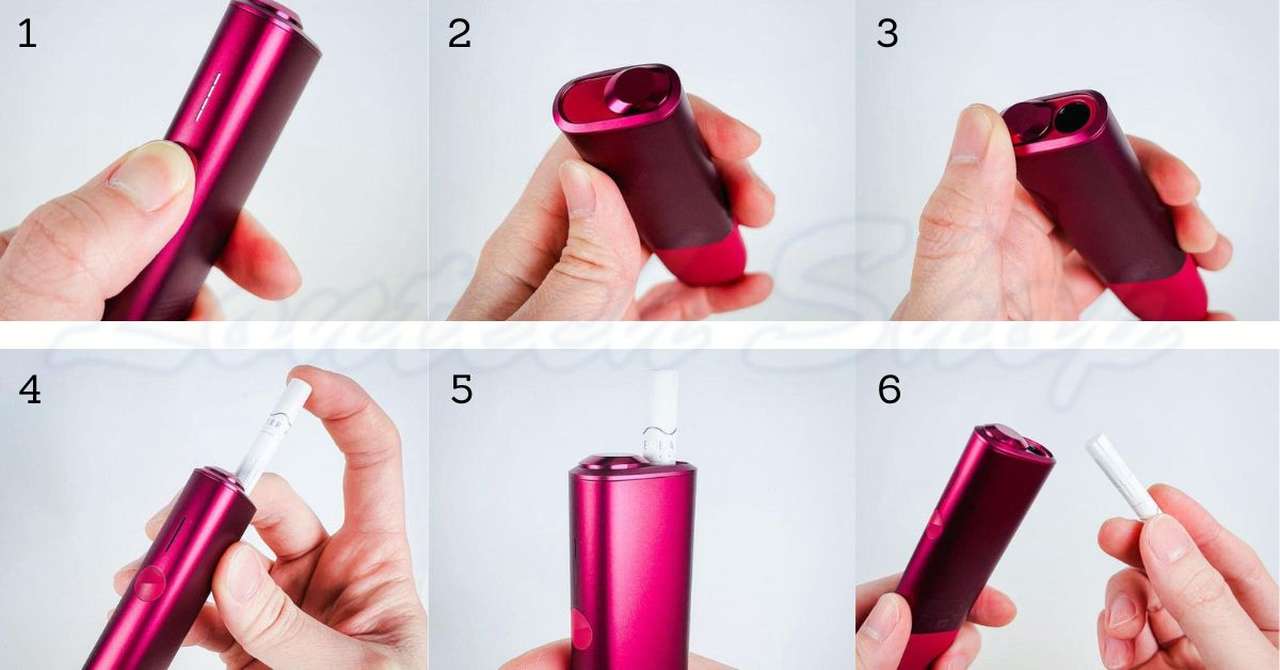 What is the IQOS TEREA Mauve Wave?
It is a tobacco stick to be used in Iluma Devices that heats tobacco instead of burning it, providing users with a smoke-free alternative to traditional cigarettes. It works by heating specially designed tobacco sticks, it produces a flavourful nicotine-containing vapour without combustion, ash, or smoke.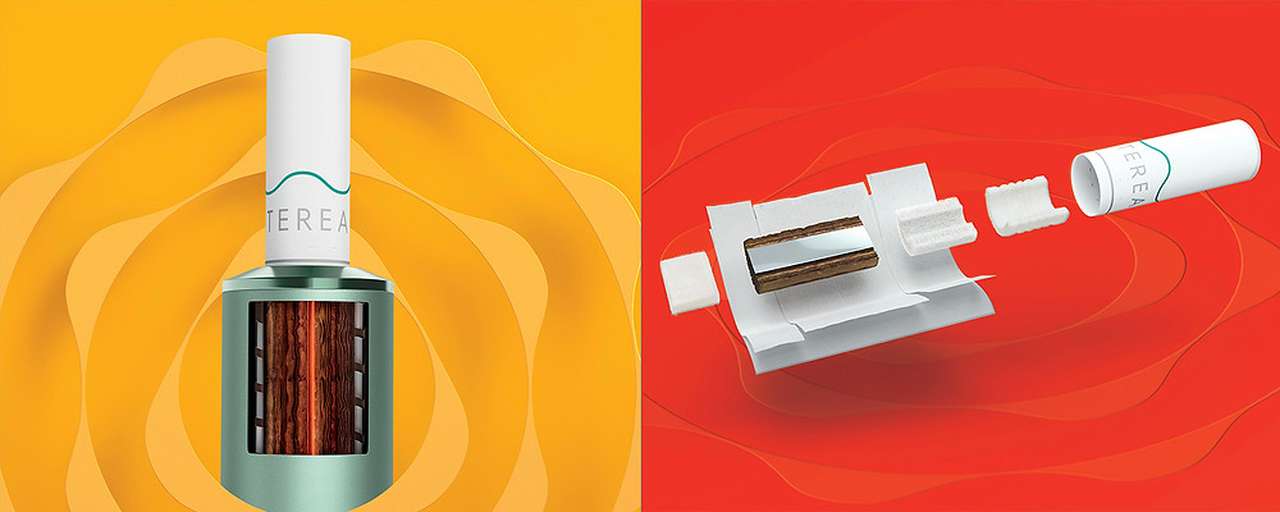 The device's innovative technology prevents overheating and guarantees a consistent performance, while users have the freedom to customize their venture with various flavours and nicotine strengths.
Choosing TEREA Mauve Wave Aroma over other IQOS HEETS
Lontech Vape Shop proudly presents TEREA Mauve Wave as the ultimate choice for IQOS users who want to take their smoking experience to the next level. With its unique aroma and flavor profile, TEREA Mauve Wave stands out from the crowd.
Unlike traditional cigarettes or other IQOS HEETS flavors, TEREA Mauve Wave offers a distinctive blend of subtle floral notes and rich tobacco undertones. This combination creates a truly captivating and indulgent experience that will leave you craving for more.
Furthermore, TEREA Mauve Wave delivers a smooth and satisfying nicotine hit, ensuring that you can enjoy your tobacco without the harshness or bitterness often associated with traditional cigarettes. The carefully selected tobacco blend provides a balanced and refined taste that will delight your senses with every puff.
Not only does TEREA Mauve Wave offer an exquisite flavour experience, but it also boasts enhanced functionality. The device's sleek and compact design makes it convenient to carry wherever you go, allowing you to enjoy your tobacco on-the-go without any hassle. Its simple and intuitive, Philip Morris have spent close to $9 Billion in research and development on IQOS and the heated tobacco product range is only getting better.
Users prefer it for its smooth and satisfying tobacco experience, complemented by its balanced blend of flavours, making it a popular choice among tobacco enthusiasts.
The use of TEREA Mauve Wave adds an extra layer of complexity to the overall vaping experience, making it even more enjoyable for users.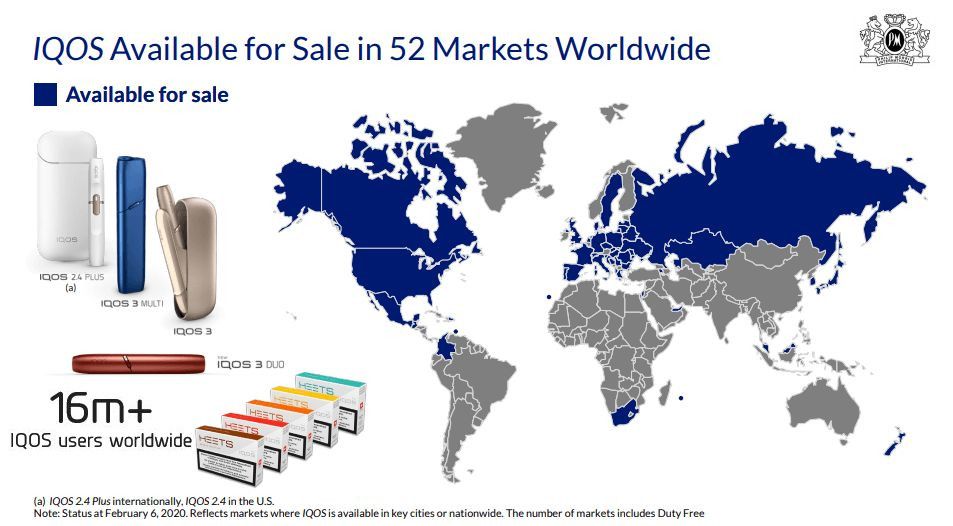 Designed to enhance the overall IQOS experience, TEREA Mauve Wave's distinctive tobacco blend offers a more intense and satisfying flavour, providing a smoother and more pleasurable experience compared to other flavours available.
With its unique blend, TEREA Mauve Wave is the perfect choice for those seeking a rich and robust taste, while minimizing the risk of serious injuries associated with traditional smoking methods.
What is IQOS TEREA Mauve Wave?
TEREA Mauve Wave is a specific edition of the IQOS device, renowned for its heated tobacco technology. Offer a pleasurable and flavourful tobacco experience, free from smoke, ash, or the lingering smell typically associated with regular cigarettes. The Mauve Wave variation delivers a strong and rich tobacco flavour.
How can I order products from Lontech Vape Shop?
If you are looking to order IQOS TEREA Mauve Wave Iluma Sticks from Lontech Shop, then you can do so by clicking any product information or product code and adding it to the shopping cart and checkout, the process to submit your payment information. We accept major credit cards, such as Visa and Mastercard.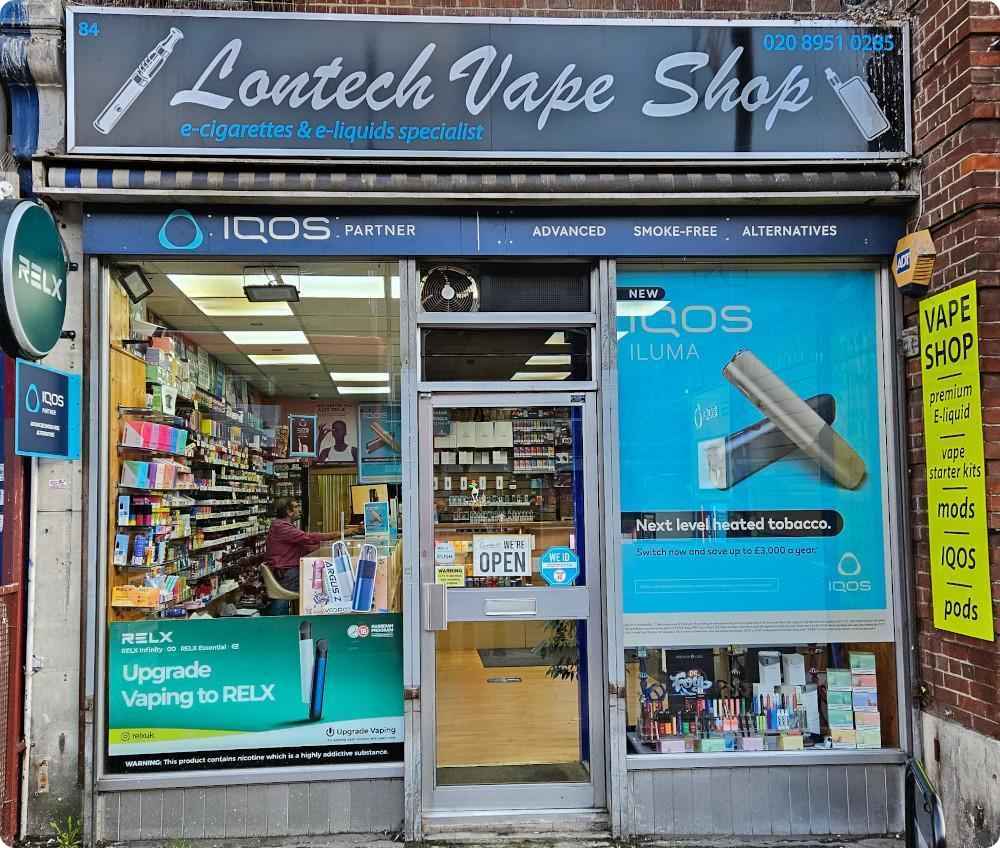 Once purchasing is received, we will immediately send you a shipping confirmation email with the tracking number for your shipment.
We hope that you enjoy your experience shopping with us!
Same day Dispatch
Order your starter kit today for fast UK delivery and free shipping on all orders! cheap pricing & wide range of tobacco sticks to do your shopping.
All orders placed before 3:30 pm Monday - Friday (excluding bank holidays) are dispatched the same working day subject to availability.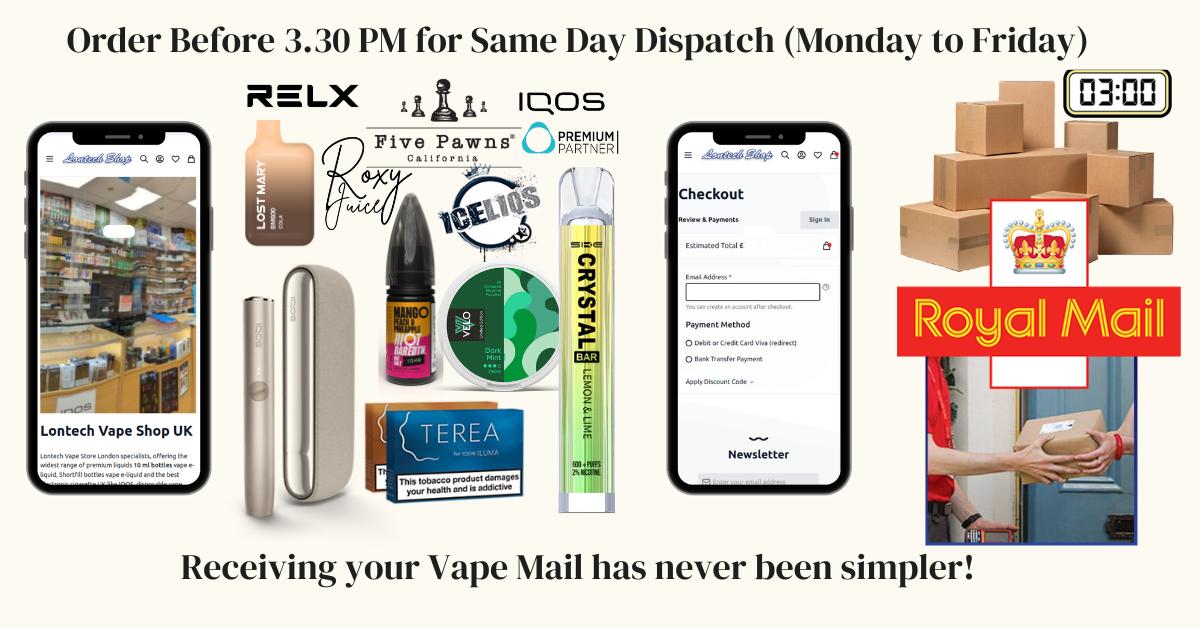 Standard Shipping
Royal Mail Signed For 1st Class starts from £2.99
Deliveries take up to 1 - 2 working days and are delivered between 8 am - 9 pm (excludes Weekends & Bank Holidays). Sorry for any inconvenience, and thank you for your patience and understanding.
Special Delivery*
Royal Mail Special Delivery Guaranteed by 1 pm is £9.99 Saturday delivery is available if placed on Friday before 3:30 pm
*Special Delivery Notes
By selecting this option, you are upgrading the shipping method to the Royal Mail UK Special Delivery Next Day (after dispatch) Service, which includes up to £500 compensation for loss or damage.
You will receive your order the next working day after we ship it, (which is NOT necessarily the same as the next day after you place your order.)
For more information regarding this and other Royal Mail services, please visit the Royal Mail website.
All orders placed before 3:30 pm Monday to Friday (excluding bank holidays) are dispatched the same day subject to availability for next day delivery. Orders will not be delivered on bank holidays and Sundays. Any orders made on Sunday will be dispatched the following Monday.
Age Verification
You must be aged 18 years old to buy e-liquids and vaping products from our website.
Electronic Cigarettes, vaping, tobacco products, cigarette products and e-liquid should not be used by pregnant women or people who are intolerant or allergic to Propylene Glycol or Vegetable Glycerine.
Warning:
Keep out of reach of children and pets.
Please note this site is restricted to selling only in the United Kingdom.
If you disagree with any part of these terms and conditions or our privacy policy, please do not use our website.
Vape products have nicotine which is an addictive substance. Over time, your brain and body get used to having nicotine, which means you may have nicotine withdrawal symptoms when you quit vaping.
The electronic cigarette, it is important to remember, is not a smoking cessation device and non-smokers should not approach this product.
Only for use by adults age of 18 +
NOT FOR SALE TO MINORS.
Customer Service
Please contact our IQOS customer service on 0208 951 0285 and we will be happy to help! contact us on social Facebook Instagram Twitter Youtube or email us.
We found other products you might like!
As low as

£29.00

Regular Price

£39.00

As low as

£49.00

Regular Price

£69.00