Black Flag Risen Enriched Five Pawns E-liquid
Only %1 left
SKU
black-flag-five-pawns
Brands:

Black Flag Risen Enriched E-Liquid
Premium Black Flag Risen Enriched E-Liquid
Black Flag Risen has been Inspired by an eccentric drink called "Cigarettes & Coffee"
Same day UK Dispatch
50ml shortfill with a free 10ml nicotine shot! Enjoy as zero nicotine or add a Full 18mg nicotine shot to convert it to 3mg.
Five Pawns Black Flag
Black Flag Risen Enriched Five Pawns E-liquid, this new version of Black Flag Risen by Five Pawns has been Inspired by an eccentric drink called "Cigarettes & Coffee" at a local watering hole, Five Pawns has gone where they have never gone before.
They've introduced just a hint of flue cured sweet Virginia tobacco flavour leaf to Black Flag Risen in order to mimic two flavours that go together like no other. Check the five pawns black flag risen review. The robust flavour of cappuccino is maintained throughout each puff, enhanced by a creamy and light truffle cream. The mocha-coated black walnut adds an extra layer of flavour, while subtle hints of Virginia tobacco create a complex and nuanced vaping experience.
Country of Origin
California, USA
VG/PG
A combination of 50/50 (VG/PG)
Volume
Supplied in 50ml e liquid bottle
Available Strengths
Warning this product is Nicotine Free
Information
50ml child-proof bottle

Black Flag Risen Enriched Five Pawns E-liquid is made in the state of California by Five Pawns a US manufacturer that specialises in complex, bespoke blends created using premium ingredients, these include coffee, cocktail and dessert flavours.

Complies with the European TPD

Ingredients include the highest quality pharmaceutical and food-grade ingredients

Preparation and bottling conforms to the highest safety and hygiene standards

We are not aware of any but some flavours may contain traces of nuts
Black Flag Five Pawns E-Liquid
This Black Flag Five Pawns E-Liquid awesome vape liquid flavour is a nicotine-free e-liquid shortfills which means it is fully compliant with all TPD rules and regulations and has a concentration ratio of 50% VG (Vegetable Glycerine) and 50% Mixed PG (Propylene Glycol) and high-quality food flavourings. The perfect blend for sub-ohm vaping!
Black Flag 5 Pawns E-Liquid
Black Flag 5 Pawns E-Liquid, due to TPD (tobacco products directive), new regulations have meant manufacturers can now no longer sell nicotine-containing e-liquids in bottles larger than 10ml. (It's also the reason why vape tanks can now only be 2ml).
To get around this and continue giving vapers the best value for money, shortfills were invented.
Pros Of Using Shortfills
Great for cloud chasing

Often cheaper per ml

Fewer bottles to lose!

It may be better for the environment
Cons Of Using Shortfills
Low nicotine strengths

Not usually right for low power devices

Need to buy nicotine shots separately

Not always tested

Quality can vary
Five Pawns e liquid
Five Pawns e liquid started its trip in 2012 when we had been struck through concept - from of all locations - the sport of chess. Since that seminal second seven years ago, the employer has developed into the top class e-liquid corporation in the industry.
Five Pawns realized that the technique of developing e-liquid taste blends is like transferring pawn portions in chess, as a "pawn" is "someone or something that is used or manipulated to in addition one's purpose."
It's additionally becoming that the recreation of chess is a state-of-the-art and complicated pursuit with a range of outcomes, an awful lot like Five Pawns' ordinary e-liquid taste profile.

Soon after this second of inspiration, Five Pawns commenced with 5 complexes, handcrafted e-liquid flavours that had been created for the vape connoisseur and his or her discerning strategy to the experience.
They diagnosed that 5 typical tastes are exceptional via the human palate: Sweet, bitter, sour, salty, and umami (which is described as savoury). Therefore, every Five Pawns product line has an ingredient combination that satisfies every one of the 5 tastes. And consequently the name.
With this progressive founding concept, Five Pawns has come to be the main e-liquid producer and online retailer in the vape industry. Creating special vape flavours, the business enterprise produces e-liquids beginning from the "molecule up," so that every taste remains uncompromised and created with top-rate elements and no synthetic sweeteners – ever.

Some of the quality vape flavours Five Pawns has created are award winners and especially sought-after with the aid of the discerning vaping fanatic who is aware of each style and value.
The top class e-liquid company's strengths are described through the incredible crew of human beings who work tirelessly to serve the vaping enthusiast.
Empowering the humans around the business enterprise - crew members, commercial enterprise partners, and clients empower the organization, its brand, products, vision, and a lifestyle that we experience evokes others.
Five Pawns promise to you - stay continually revolutionary whilst conserving genuine to our core values of humans first, accompanied intently by using our merchandise and provider as one complete mission.
Black Flag Risen Enriched Five Pawns E-liquid Near Me
Black Flag E-Liquid Near Me, Lontech Vape Shop stocks Black Flag Risen Enriched E-Liquid, vape Kits, disposable vapes, and ePod are available online for next-day delivery or in our London UK store.

How to mix 0mg nicotine free e-liquid with nicotine?
To make a 3mg e-liquid, combine 1 phase nicotine to 5 components flavoured base. That capacity you divide the extent of the nicotine-free base liquid by way of 5 adds that plenty of the 18mg nicotine liquid.
For Black Flag Risen Enriched E-Liquid 50ml of nicotine-free e-liquid, you add 1 nic shot or nic salt to make 3 mg. 30 ml, 60 ml and 100 ml empty bottles are available in-store or online for just 99p.
Why do you shake vape juice?
With both the layering of flavours and the off-gassing of molecules being big problems, how could it even be possible to fix the flavours in your e-juice? That's right, you guessed it.
Shaking the e-liquid bottle mixes up all of those layers that settled over time, and mixes the gas back in as well.
Why is my coil burning so fast?
The brief answer is chain vaping or not having sufficient e liquid in the tank are common motives of coil damage as the wick does now not have time or enough e liquid handy to soak up e-liquid between puffs.
Remember to also feed the coil with e-liquid, AND let it prime and soak in before you start vaping. A dry wick due to this will cause your coil to burn.
Types of E-Liquid
Wondering what unique sorts of e-liquid are available? The primary sorts of e-liquid we provide are:
High PG E-Liquid
High PG e-liquid has a greater ratio of PG to VG. This potential the vape juice is thinner in consistency and will elevate flavour very well. High PG vape beverages are nicely used in vape pens, refillable pod mods and different comparable starter kits. The coil used with high PG e-liquids ought to generally have a resistance over 1 ohm.
Sub Ohm E-Liquid
High VG e-liquids are thicker in consistency and produce massive clouds when vaporised. High VG e-liquids have to typically be used with coils that have a resistance beneath 1 ohm.
50/50 E-Liquid
50/50 e-liquids have a 50% PG, 50% VG ratio, and are tremendous for use in the majority of starter kits. 50/50 liquids provide you with gratifying vapour manufacturing alongside incredible flavour. Different nicotine strengths are available.
Nicotine Salt E-Liquid
Nic salt e-liquids are made the usage of nicotine salts in the location of the common freebase nicotine.
This skill they are smoother to vape at greater strengths and supply a rapid and pleasant throat hit of nicotine that is reminiscent of smoking a standard cigarette.
Nic salt e-liquids ought to be used in low-power starter kits and refillable pod kits.
Shortfill E-Liquid
Shortfill e-liquids are nicotine free and come in brief fill bottles, which means there may be enough space left for a nicotine shot to be combined in.
Add a nic shot for a large volume of nicotine containing e-liquid! This frequently works out more cost effective than shopping for smaller bottles.
Generally, e-liquids will fall into extra than one of these categories.
Is smoking or vaping better for you?
Vaping Is Less Harmful Than Smoking. E-cigarettes warm nicotine (extracted from tobacco), flavourings and different chemical compounds to create an aerosol that you inhale. Regular tobacco cigarettes comprise 7,000 chemicals, many of which are toxic.
All orders from our website for same working day dispatch using royal mail service, or pickup up from our London store.
Lontech shop is the best go-to online vape shop for all your vaping needs, no matter on budget price or your level of vaping experience.
How can I order products from Lontech Shop?
If you are looking to order products from Lontech Shop, then you can do so by clicking any product information or product code and adding it to the shopping cart and checkout the process to submit your payment information. We accept major credit cards, such as Visa and Mastercard. Once your order has been placed, we will immediately send you a shipping confirmation email with the tracking number for your shipment. We hope that you enjoy your experience shopping with us!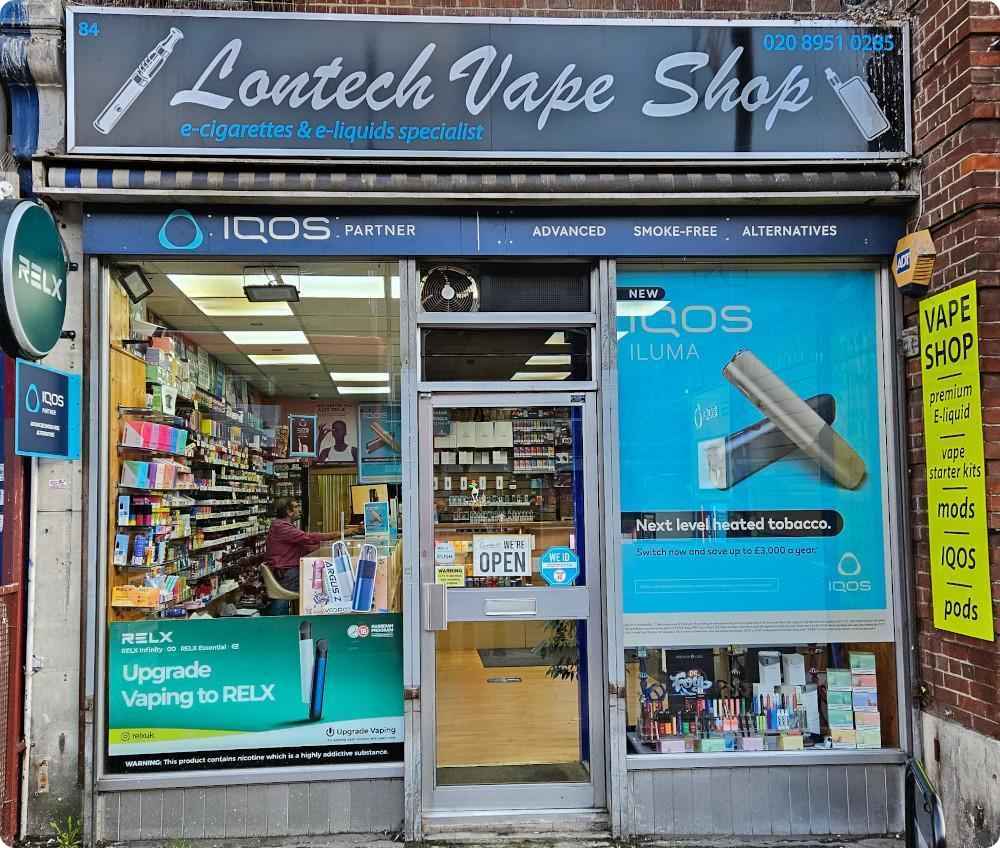 All orders placed before 3:30 pm Monday to Friday (excluding bank holidays) are dispatched the same day subject to availability for next day delivery. Orders placed after 4 pm on Saturday will be dispatched on the following Monday, while orders placed on public holidays will be dispatched on the next working day. This ensures that you receive your device as quickly as possible, so you can start enjoying your vape right away. Orders will not be delivered on bank holidays and Sundays.
Age Verification
You must be aged 18 years old to buy e-liquids and vaping products from our website.
Electronic Cigarettes, tobacco vaping, tobacco products, cigarette products, and e-liquid should not be used by pregnant women or people who are intolerant or allergic to propylene glycol or vegetable glycerine.
Warning:
Keep out of reach of children and pets.
Please note this site is restricted to selling only in the UK
If you disagree with any part of these terms and conditions or our privacy policy, please do not use our website
Vape products have nicotine which is an addictive substance. Over time, your brain and body get used to having nicotine, which means you may have nicotine withdrawal symptoms when you quit vaping
The electronic cigarette, it is important to remember, is not a smoking cessation device and non-smokers should not approach this product
Only for use by adults age of 18+
NOT FOR SALE TO MINORS
Talk to Vape Customer Services
Please contact our customer services on 0208 951 0285 and we will be happy to help! or email us