VUSE Peppermint Tobacco Pods
SKU
vuse-peppermint-tobacco-pods
Brands:

Contains Nicotine Salt for a more satisfying vaping experience
Peppermint Tobacco 18 mg Nic Salts e-Liquid pod
Two packs of Peppermint Tobacco vPro ePod Pods
Approx. 275 puffs per pod
Each pod contains 1.9ml e-liquid
Only compatible with the Vype / Vuse ePod & ePod 2
UK Fast Delivery same day dispatch
VUSE Peppermint Tobacco
Experience the refreshing fusion of cool peppermint and rich tobacco with VUSE Peppermint Tobacco Pods. Designed to elevate your vaping journey, these pods are carefully crafted with Nicotine Salt to deliver a more satisfying experience.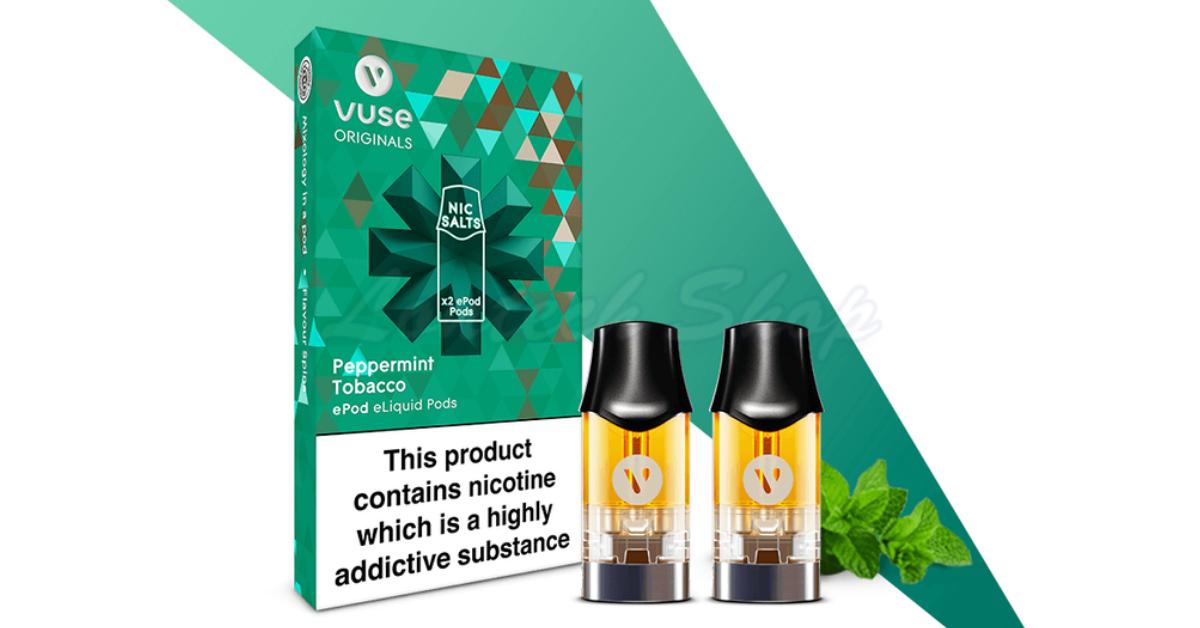 Each pod contains 18 mg of Nicotine salt e-Liquid, providing you with a smooth and fulfilling throat hit. With two packs of Peppermint Tobacco vPro ePod Pods, you'll have plenty to enjoy without worrying about running out too soon.
Get ready to indulge in approximately 275 puffs per pod, allowing you to savour the delightful flavours for a longer period of time. With 1.9ml of e-liquid in each pod, you can expect a consistent and flavourful vape throughout.
It's important to note that VUSE Peppermint Tobacco Pods are only compatible with the Vype/Vuse ePod & ePod 2 devices. This ensures that you'll have the best vaping experience possible, with a device specifically designed to enhance the flavours and performance of these pods.
Not only do you get to enjoy the sensational taste of peppermint combined with aromatic tobacco, but you also benefit from UK Fast Delivery. With same-day dispatch, you can expect your order to arrive quickly, allowing you to start vaping and enjoying the VUSE Peppermint Tobacco Pods in no time.
Upgrade your vaping experience with VUSE Peppermint Tobacco Pods today and immerse yourself in the perfect balance of cool mint and rich tobacco flavours.
Vaping has become increasingly popular in recent years, with a wide range of flavours and products available to consumers. VUSE Peppermint Tobacco Pods, and the vape kits, are a great option for those who enjoy a cool and refreshing flavour while vaping. It's important to remember that safety should always be a top priority when entering the world of vaping.
As the industry continues to grow and evolve, it's critical for vapers to stay informed about potential risks and safety concerns associated with e-cigarettes. Order before 3.30 pm for next day delivery! It's convenient for vapers to have the option of next day delivery, ensuring that they can receive their VUSE Peppermint Tobacco Pods, or vape kits, quickly and without delay.
Can u use Vype pods in a Vuse?
Can I use Vuse pods Refills with My Vype E-Cigarette? Absolutely! This means you can use your Vype ePod with the Vuse ePen refills, and vice versa. Similarly, you can use your Vype ePod with the Vuse ePod refills, and the Vuse ePod 2 device is compatible with any Vype refill pods you may have left.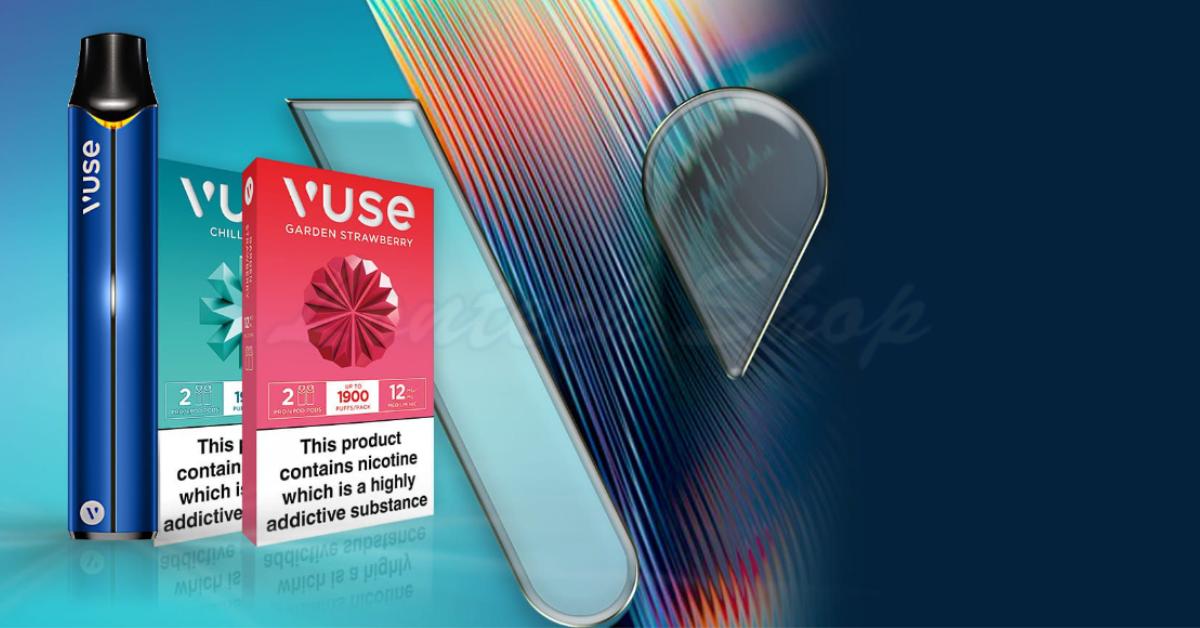 Is smoking or vaping better for you?
Vaping Is Less Harmful Than Smoking. E-cigarettes warm nicotine (extracted from tobacco), flavourings and different chemical compounds to create an aerosol that you inhale. Regular tobacco cigarettes comprise 7,000 chemicals, many of which are toxic.
The Ultimate Guide to VUSE Peppermint Tobacco
In the ever-evolving world of vaping, staying ahead of the curve is essential. Whether you're a seasoned vaper or just stepping into the realm of e-cigarettes, VUSE Peppermint Tobacco Pods are poised to redefine your vaping experience.
We understand your need for detailed insights and valuable information, which is why we've crafted this comprehensive guide. Dive into the world of VUSE products and embark on a journey to discover what makes these pods stand out.
Safe and Responsible Vaping
It's crucial to understand that vaping is not without its risks. VUSE is committed to ensuring a safe and responsible vaping experience for its users.
Vuse products, such as the Vuse Alto, Ciro, Solo, and Vibe complete kits, are designed exclusively for adult tobacco consumers and must be used in accordance with any applicable restrictions on usage in various settings such as homes, communities, public spaces, or mobile environments like cars, planes, and other forms of public transportation in the state of California. It is important to follow these guidelines to avoid any potential health hazards associated with the use of tobacco products, including the risk of birth defects.
There are various factors to consider to guarantee your safety and the longevity of your device:
Understanding Lithium Polymer Batteries
Lithium polymer batteries are at the heart of VUSE products. These batteries are known for their high energy density and long-lasting performance. However, they should be handled with care to avoid any potential dangers. Always follow the manufacturer's instructions to ensure the safe use of your device.
A USB charger is a versatile device that can be connected to multiple power sources, including the wall adapter, car adapter, or USB port of a computer. This makes it convenient for users to charge their devices on the go, no matter where they are.
Additionally, some USB chargers come equipped with multiple ports, allowing users to charge multiple devices simultaneously. With the increasing use of mobile devices in our daily lives, having a reliable USB charger has become essential for many people.
Age Restrictions
Vaping products, including VUSE, are intended for use by adults of legal age. It's important to adhere to the legal age restrictions in your state or country to prevent the sale and use of these products by minors.
According to the FDA, vapour products containing nicotine sourced from tobacco plants and related components are classified as tobacco products. This means they will be subject to the same regulations as traditional cigarettes.
Cartridge Life
VUSE cartridges have a defined lifespan. Replacing your cartridge when the flavour diminishes or you experience a burnt taste is essential. Regularly replacing your cartridges ensures a consistently satisfying vaping experience.
It is important to note that the Vuse Vibe power unit is designed for single use only. Attempting to refill the Vuse Vibe pre-filled tanks can lead to potential safety hazards and may impact the performance of the device. It is recommended to always use a new, pre-filled tank when the current one runs out to ensure optimal performance and safety. Refilling tanks can also void any warranties associated with the product, so it is crucial to follow the manufacturer's instructions for safe use.
Additionally, the Vuse Vibe pre-filled tanks, including the Vuse Vibe power unit, are translucent, allowing you to easily see when the liquid is nearing the bottom of the tank, indicating it is time for a replacement.
Safe Charging Practices
When charging your VUSE device, it's recommended to use the provided USB charger or wall adapter. Using unauthorized charging equipment may lead to safety hazards. Avoid charging your device in extreme temperatures or high humidity environments to prevent potential damage.
Pulsing Red Light
The pulsing red light on your VUSE device indicates various conditions, such as low battery, Vuse PowerUnit or cartridge connection issues. Understanding these indicators will help you troubleshoot and maintain your device effectively.
Reports and Studies
It's important to note that vaping, like any activity, has its share of concerns and risks. Recent reports have raised questions about vaping's safety, including the potential for serious injury. While VUSE products are designed with safety in mind, it's vital to stay informed about potential risks associated with vaping, such as high blood pressure, heart disease, high humidity-related issues, and an increase in heart rate.
Superior Flavour and Variety
One of the most enticing features of the products is the wide range of flavours available. The flavour packs are carefully crafted to offer a taste that suits every palate. From fruity delights to classic tobacco, ensures that you have a delightful vaping experience every time.
Maintenance and Care
To keep your device in optimal condition, it's crucial to follow proper maintenance and care routines. Here are some essential tips to ensure the longevity of your device:
Cleaning Your VUSE Power Unit
Cleaning your VUSE power unit is essential to maintain its performance. Regularly clean the contact port and ensure a clean connection between the power unit and the cartridge.
Avoid Extreme Temperatures
Exposing your device to extreme temperatures can negatively impact its performance. Store your VUSE products in a cool and dry place to ensure their longevity.
Compatibility and Accessories
A range of accessories, including car adapter chargers and wall adapters, are designed to make your vaping experience more convenient. Ensure you use compatible accessories to prevent damage to your device.
Why are there bubbles inside my cartridge?
As the liquid is used up from the cartridge, it is replaced with air to maintain the proper functionality. It is possible for this air to get trapped in the liquid as bubbles. This occurrence is completely normal and has no impact on the taste or performance of the product.
Step-by-Step Guide on How to Use Vuse Pods
Step 1: Inspect the Pod
Before inserting the Pod into your device, it's essential to examine it visually to check for any damages or leaks. Inspecting the pod can prevent any potential harm to your device and ensure that you get the most out of your vaping experience. It is also crucial to keep in mind that if you notice any defects, do not use the pod and dispose of it immediately. Always prioritize safety when handling vaping devices and accessories.
Step 2: Power Up Your Device
To ensure optimal performance of your Vuse device, it is essential to charge it fully using the provided charging cable and Vuse Vibe charger. Once connected, wait until the device is fully charged to experience consistent performance. It is recommended to keep your device charged at all times to avoid any interruptions while using it.
Additionally, be sure to follow the manufacturer's instructions and safety guidelines when charging your device with the Vibe charger to prevent any damage or hazards. The Vuse Vibe USB charger is the only component that actually charges the Vuse Vibe, and it can be connected to the wall adapter, the car adapter, or the USB port of a computer. Will the Vuse wall adapter and car adapter charge Vuse Vibe by themselves?
Step 3: Get Your Device Ready
To ensure the proper function of your Vuse device, it is important to follow the manufacturer's instructions specific to your device model. Depending on the type of the device you have, you may need to remove a protective cap or cover before use. This step is essential for proper usage and to prevent any damage or malfunction of the device. Always refer to the user manual provided by Vuse for detailed instructions on how to safely remove the protective cap or cover from your device.
Additionally, it is crucial to store Vuse products in a clean, dry, cool place to maintain their performance and longevity.
Avoid storing them in extreme temperatures or near fire or flames. Do not submerge Vuse products in any liquid, including clean vuse power units, and avoid long-term exposure to high humidity. It is recommended not to use your product if it is immersed in liquid or gets wet.
Step 4: Insert the Vuse Pod
Inserting the Pod is easy. Simply slide it into the designated slot until you hear a click. This ensures proper insertion and avoids leakage or device malfunction. Follow manufacturer instructions for optimal performance.
Step 5: Activate Your Device
Vuse devices, such as the Vuse Alto power unit, are designed for ease of use and provide a convenient and satisfying vaping experience. If your Alto power unit flashes green three times during a puff attempt, there are two potential reasons. If the puff is disallowed, there is a connection error between the pod and the power unit.
Vuse devices are equipped with a heating element that can be activated through a button or sensor. If your device has a button, press it while inhaling to activate the heating element.
On the other hand, if it is sensor-activated, simply start inhaling, and the device will automatically activate. The LED indicator on the Alto power unit will let you know when it's time to recharge the device.
Step 6: Make the most of your vaping journey
After activating your device, it's important to take slow and steady puffs to fully appreciate the flavour of your selected Pod. It's crucial to remember that vaping is all about enjoyment, so try not to rush through the experience.
Taking your time will allow you to savour every aspect of the flavour and make the most of the vaping experience. Additionally, taking slow and steady puffs can help prevent any discomfort or irritation that may occur from taking too many quick puffs in succession. So sit back, relax, and enjoy your Pod at a leisurely pace.
We also recommend beginners opt for products made with a nicotine salt formula. This nicotine type is smooth on the throat and absorbed quickly by the body for a cigarette-like sensation.
Step 7: Keep an eye on your battery
To ensure uninterrupted vaping pleasure, it is important to keep an eye on your device's lithium ion battery level and be aware of the fire risk associated with high energy devices. When it starts to run low, recharge it promptly. This will not only prevent any sudden interruptions in your vaping experience but also prolong the life of your device's battery. Regularly checking and maintaining your device's battery can help you avoid any inconvenience while using it. Therefore, make sure to charge your device regularly to enjoy a seamless vaping experience.
Can the battery be removed from the Vuse Ciro power unit?
The Lithium Polymer battery enclosed within the Ciro power unit cannot be accessed. It is important not to try to open, service, or fix the power unit as this could lead to injury such as electric shock or fire.
Can I use non-Vuse Ciro cartridges with the Vuse Ciro power units?
To prevent any damage or safety risks, it is important to exclusively utilize Vuse Ciro cartridges in conjunction with Vuse Ciro power units. For the best performance and safety, ensure that they are used with compatible power units.
What do VUSE Peppermint Tobacco Pods taste like?
VUSE Peppermint Tobacco Pods offer a unique and refreshing flavour. The cool peppermint blends with rich tobacco for a satisfying vaping experience. Each puff delivers refreshing mint followed by smooth tobacco, creating a delightful balance. Try VUSE Peppermint Tobacco Pods for an enjoyable vaping experience.
VUSE Peppermint Tobacco Pods Near Me
You can find VUSE Peppermint Tobacco Pods in a variety of strengths online and in our vape shop. Other great flavours are also available. You can find the 18 mg and 12 mg salt nicotine strength that you need in order to have a smooth and satisfying vaping experience.

How can I order products from Lontech Vape Shop?
Ordering VUSE Peppermint Tobacco Pods from Lontech Shop is a convenient and easy process that can be completed in just a few simple steps. You can begin by adding the product to your shopping cart, which can be done by clicking on any of the product information or codes.
Once you have added all the products, proceed to checkout and enter your payment details using major debit or credit cards such as Visa and Mastercard. After placing your order, you will receive a confirmation email that includes a tracking number for your shipment.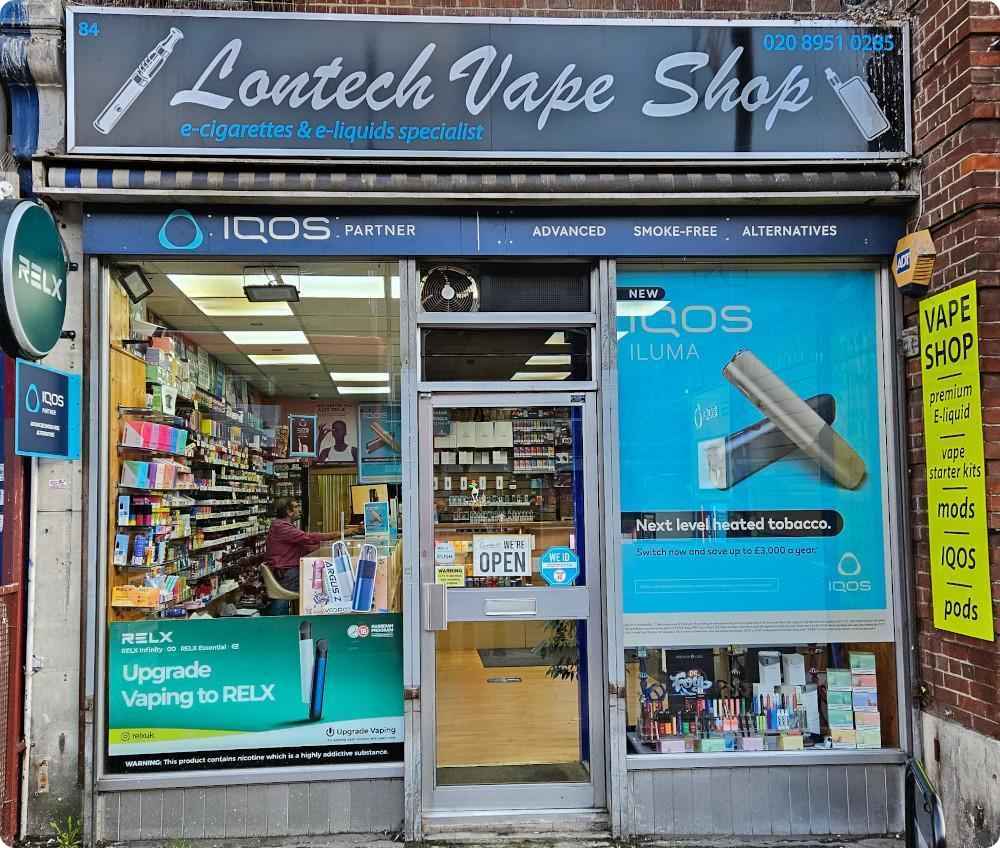 Shipping & Delivery
For customers looking to receive their vape devices quickly, it is essential to place an order before 3:30 pm from Monday to Friday (excluding bank holidays). Doing so ensures that the order will be dispatched on the same day and delivered the next day, subject to availability.
Orders placed after 4 pm on Saturday will only be dispatched on Monday, while orders placed on public holidays will likewise be dispatched on the next working day. It is important to note that orders will not be delivered on Sundays and bank holidays.
This speedy delivery process guarantees that customers can start enjoying their vape devices right away. The company's efficient delivery system factors in possible delays due to unforeseen circumstances like natural disasters or extreme weather conditions.
Customers can have peace of mind knowing that they can expect their orders to arrive promptly, thanks to this well-planned shipping process. Additionally, the company provides regular updates about the status of each order through email notifications and tracking information, allowing customers to stay informed every step of the way.
Age Verification
Our website has an age restriction policy where customers must be 18 years or older to purchase e-liquids and vaping products. It is also important to note that pregnant women, as well as individuals who are intolerant or allergic to propylene glycol or the ratio of vegetable glycerin, should not use electronic cigarettes, tobacco vaping, tobacco products, cigarette products, or e-liquid.
These products contain chemicals that may pose health risks to certain individuals. It is crucial to read product labels and follow usage instructions carefully before using any of these products. Additionally, users should consult with a healthcare professional if they have any concerns about the safety of using these products.
Warning:
Keep out of reach of children and pets.
Please note this site is restricted to selling only in the UK
If you disagree with any part of these terms and conditions or our privacy policy, please do not use our website
Vape products have nicotine which is an addictive substance. Over time, your brain and body get used to having nicotine, which means you may have nicotine withdrawal symptoms when you quit vaping
The electronic cigarette, it is important to remember, is not a smoking cessation device and non-smokers should not approach this product
Only for use by adults age of 18+
NOT FOR SALE TO MINORS
Talk To A Vape Expert
Please contact our customer service on 0208 951 0285 and we will be happy to help! Contact us on Social media Facebook, Instagram, Twitter, Youtube, or email us.