Only %1 left
SKU
vuse-golden-tobacco-pods
Brands:

Contains Nicotine Salt for a more satisfying vaping experience
Golden Tobacco vuse Nic Salts e-Liquid pod
Two pack of Golden Tobacco vPro ePod Pods
Approx. 275 puffs per pod
Each pod contains 1.9ml e-liquid
Only compatible with the Vype / Vuse ePod & ePod 2
UK Fast Delivery same day dispatch
Next Day Delivery
Vuse Golden Tobacco
Experience the ultimate satisfaction with Vuse Golden Tobacco Pods. Designed to provide a truly remarkable vaping experience, these pods are infused with Nicotine Salt, ensuring that every puff is more gratifying than ever before.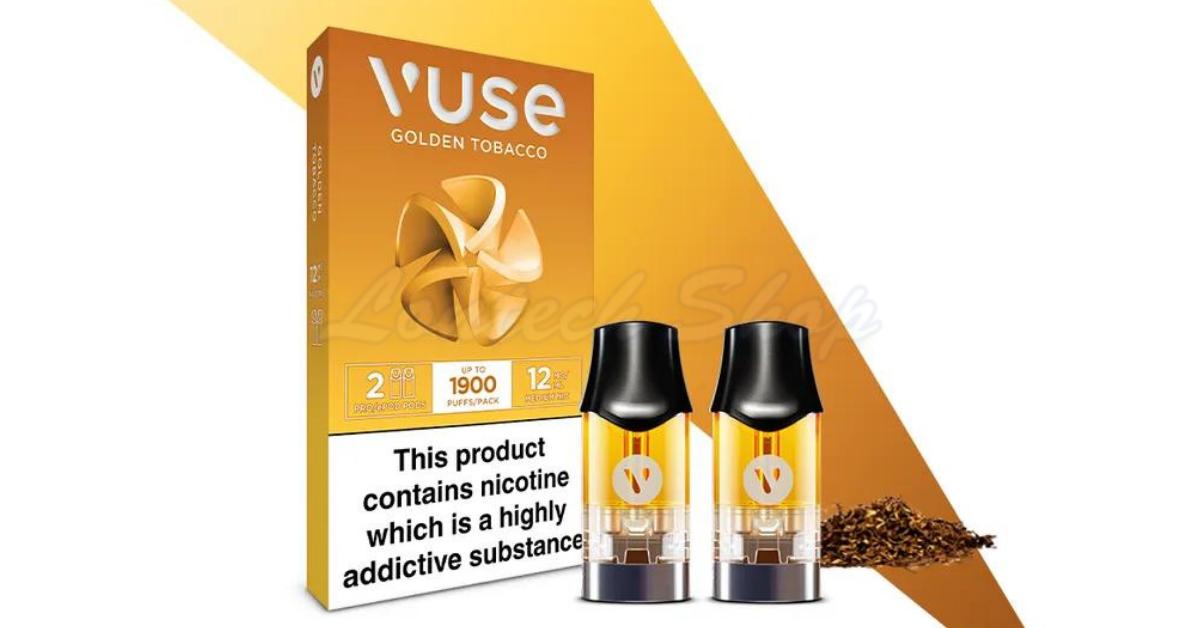 Crafted with the finest ingredients, the Golden Tobacco vPro ePod Pods deliver an unrivalled flavour profile that will leave you craving for more. With approximately 275 puffs per pod and 1.9ml of e-liquid in each one, you can enjoy a lasting indulgence that satisfies your nicotine cravings.
Please note that these pods are only compatible with the Vype / Vuse ePod & ePod 2 devices, ensuring a seamless and enjoyable vaping experience.
At Vuse, we prioritize customer satisfaction, which is why we offer UK Fast Delivery with same-day dispatch. With our commitment to prompt service, you can rest assured that your order will reach you in no time. For those who prefer even faster delivery, we also provide Next Day Delivery options.
Upgrade your vaping experience today with Vuse Golden Tobacco Pods. Discover the perfect balance of smoothness and intensity that will keep you coming back for more. Order now and embark on a truly satisfying journey with Vuse.
ePod Golden Tobacco Cartridges
Introducing the ePod Golden Tobacco Cartridges, the epitome of luxury vaping. These exquisite cartridges have been meticulously crafted to deliver a bold and robust tobacco flavour that is second to none. Each cartridge is infused with premium Nicotine Salt e-liquid, providing a smooth and satisfying hit with every puff.
With approximately 275 puff count per pod and a generous 1.9 ml capacity, you can enjoy extended vaping sessions without the need for constant refills. The Vuse ePod & ePod 2 devices are the perfect companions for these cartridges, ensuring a seamless and enjoyable vaping experience.
VUSE Golden Tobacco Pods are a popular choice for vapers who prefer the taste of traditional tobacco with added hints of honey and nuttiness. These pods contain 18mg of nicotine strength, making them ideal for those looking for stronger vape hits.
If you're a smoker looking to switch to vaping, it's recommended to start with a higher nicotine strength 18mg to curb cigarette cravings. However, if you prefer lower strength, you can adjust based on your previous smoking habits.
VUSE Golden Tobacco Pods offer a variety of flavours to satisfy different preferences. For those who prefer a minty flavour, Vuse also offers Mint Ice pods that have a refreshing and cool taste. These pods can be purchased in packs of two and are NOT compatible with the Vuse ePen device.
In addition to Menthol Pods, Vuse also offers other flavours such as blueberry ice, strawberry ice, creamy mint, and a robust Golden Tobacco option. The Golden Tobacco pods encapsulate the golden flavour of USA-grown tobacco leaf, dry-smoked and cured, naturally. A touch of swirling caramel is added for authenticity, adding a mellow and sweet undertone to these premium Vuse Golden Tobacco ePod Cartridges.
Can u use Vype pods in a Vuse?
Can I use Vuse Pods Refills with My Vype E-Cigarette? Absolutely! This means you can use your Vype ePod with the Vuse ePen refills, and vice versa. Similarly, you can use your Vype ePod with the Vuse ePod refills, and the Vuse ePod 2 device is compatible with any Vype refill pods you may have left.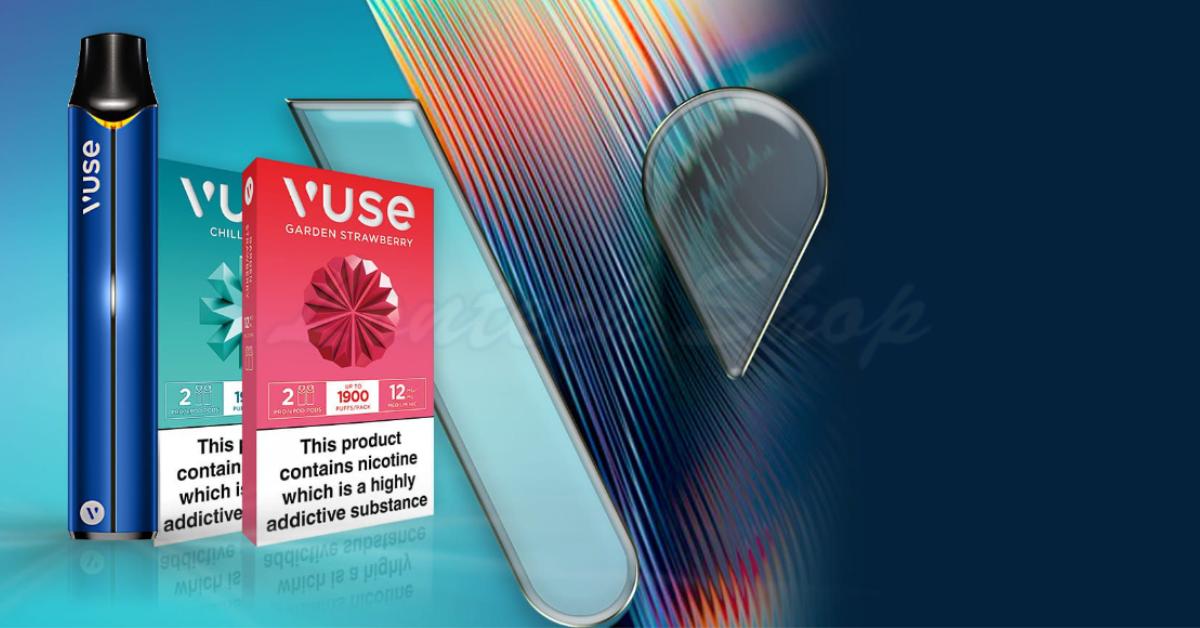 Is smoking or vaping better for you?
Vaping Is Less Harmful Than Smoking. E-cigarettes warm nicotine (extracted from tobacco), flavourings and different chemical compounds to create an aerosol that you inhale. Regular tobacco cigarettes comprise 7,000 chemicals, many of which are toxic.
Why are there bubbles inside my cartridge?
As the liquid is used up from the cartridge, it is replaced with air to maintain the proper functionality. It is possible for this air to get trapped in the liquid as bubbles. This occurrence is completely normal and has no impact on the taste or performance of the product.
Step-by-Step Guide on How to Use Vuse Pods
Step 1: Inspect the Pod
Before inserting the Vuse Pod into your device, it's essential to examine its packaging visually to check for any damages or leaks. Inspecting the pod and its packaging can prevent any potential harm to your device and ensure that you get the most out of your vaping experience. It is also crucial to keep in mind that if you notice any defects in the packaging, do not use the pod and dispose of it immediately. Always prioritize safety when handling vaping devices and accessories.
Step 2: Power Up Your Device
To ensure optimal performance of your Vuse device, it is essential to charge it fully using the provided charging cable. Once connected, wait until the device is fully charged to experience consistent performance. It is recommended to keep your Vuse device charged at all times to avoid any interruptions while using it. Additionally, be sure to follow the manufacturer's instructions and safety guidelines when charging your device to prevent any damage or hazards.
Step 3: Get Your Device Ready
To ensure the proper function of your Vuse device, it is important to follow the manufacturer's instructions specific to your device model. Depending on the type of Vuse device you have, you may need to remove a protective cap or cover before use. This step is essential for proper usage and to prevent any damage or malfunction of the device. Always refer to the user manual provided by Vuse for detailed instructions on how to safely remove the protective cap or cover from your device.
Step 4: Insert the Vuse Pod
Inserting the Vuse Pod into the designated slot is a simple process that can be done with ease. Once your device is ready, gently slide the pod into place until you hear a satisfying click. This sound signals that the pod has been correctly secured, and you are now ready to enjoy your vaping experience with pod vape kits. It is important to ensure that the pod is inserted properly to avoid any leakage or malfunction of the device. Always follow the instructions provided by the manufacturer for optimal performance of your vaping device.
Step 5: Activate Your Device
Vuse devices are equipped with a heating element that can be activated through a button or sensor. If your device has a button, press it while inhaling to activate the heating element. On the other hand, if it is sensor-activated, simply start inhaling, and the device will automatically activate. Vuse devices are designed for ease of use and provide a convenient and satisfying vaping experience.
Step 6: Make the most of your vaping journey
After activating your device, it's important to take slow and steady puffs to fully appreciate the flavour of your selected Vuse Pod. It's crucial to remember that vaping is all about enjoyment, so try not to rush through the experience. Taking your time will allow you to savour every aspect of the flavour and make the most of the vaping experience. Additionally, taking slow and steady puffs can help prevent any discomfort or irritation that may occur from taking too many quick puffs in succession. So sit back, relax, and enjoy your Vuse Pod at a leisurely pace.
Step 7: Keep an eye on your battery
To ensure uninterrupted vaping pleasure in the world of vaping, it is important to keep an eye on your device's battery level. When it starts to run low, recharge it promptly. This will not only prevent any sudden interruptions in your vaping experience but also prolong the life of your device's battery. Regularly checking and maintaining your device's battery can help you avoid any inconvenience while using it. Therefore, make sure to charge your device regularly to enjoy a seamless vaping experience.
What do VUSE Golden Tobacco Pods taste like?
VUSE Golden Tobacco Pods provide a rich and robust tobacco flavour, reminiscent of a classic cigarette. Each puff delivers smoothness and depth, creating an authentic and satisfying vaping experience. Whether you prefer traditional tobacco flavour or are transitioning from smoking to vaping, Golden Tobacco Pods will satisfy your cravings.
VUSE Golden Tobacco Pods Near Me
You can find VUSE Golden Tobacco Pods in a variety of strengths online and in our vape shop. Other great flavours are also available. You can find the 18 mg and 12 mg salt nicotine strength that you need in order to have a smooth and satisfying vaping experience.

How can I order products from Lontech Vape Shop?
Ordering VUSE Golden Tobacco Pods from Lontech Shop is a convenient and easy process that can be completed in just a few simple steps. You can begin by adding the product to your shopping cart, which can be done by clicking on any of the product information or codes.
Once you have added all the products, proceed to checkout and enter your payment details using major debit or credit cards such as Visa and Mastercard. After placing your order, you will receive a confirmation email that includes a tracking number for your shipment.
At Lontech Shop, we are committed to providing our customers with hassle-free online shopping experiences and high-quality products. If you encounter any issues while placing your order or have any concerns, our customer support team is always ready to assist you. We take pride in offering fast and reliable shipping services, with multiple delivery options available during checkout.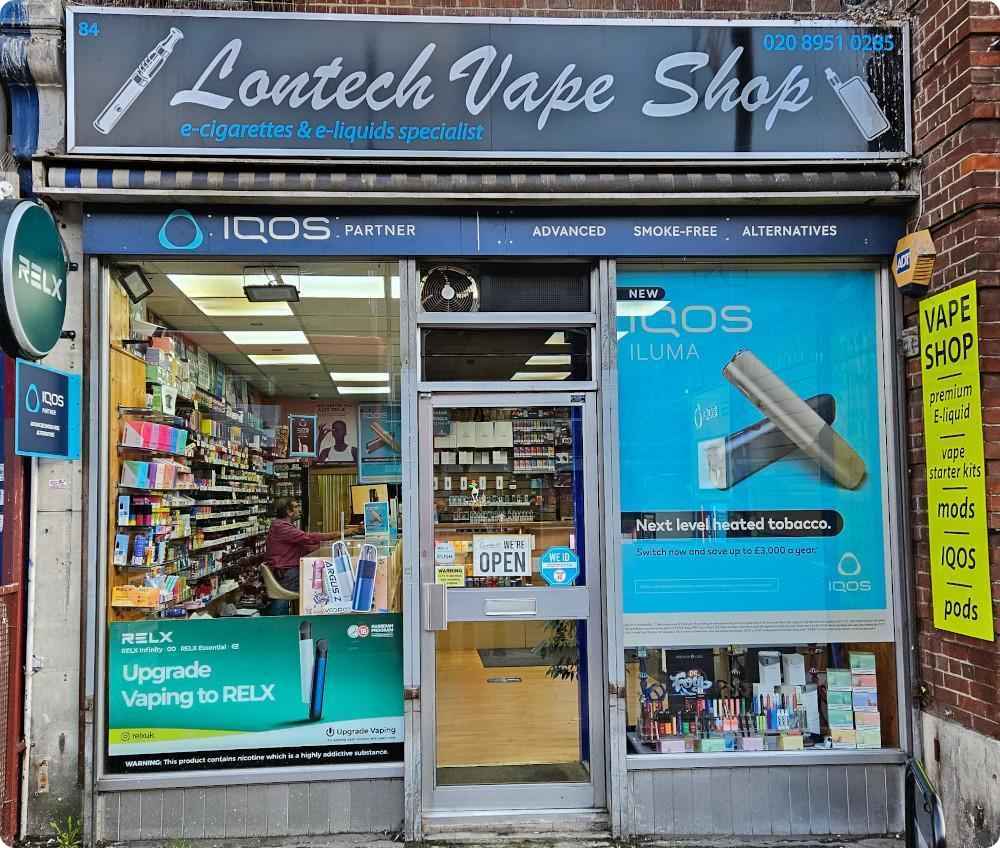 Shipping & Delivery
For customers looking to receive their vape devices quickly, it is essential to place an order before 3:30 PM from Monday to Friday (excluding bank holidays). Doing so ensures that the order will be dispatched on the same day and delivered the next day, subject to availability.
Orders placed after 4 PM on Saturday will only be dispatched on Monday, while orders placed on public holidays will likewise be dispatched on the next working day. It is important to note that orders will not be delivered on Sundays and bank holidays.
This speedy delivery process guarantees that customers can start enjoying their vape devices right away. The company's efficient delivery system factors in possible delays due to unforeseen circumstances like natural disasters or extreme weather conditions.
Customers can have peace of mind knowing that they can expect their orders to arrive promptly, thanks to this well-planned shipping process. Additionally, the company provides regular updates about the status of each order through email notifications and tracking information, allowing customers to stay informed every step of the way.
Age Verification
Our website has an age restriction policy where customers must be 18 years or older to purchase e-liquids and vaping products. It is also important to note that pregnant women, as well as individuals who are intolerant or allergic to propylene glycol or vegetable glycerine, should not use electronic cigarettes, tobacco vaping, tobacco products, cigarette products, or e-liquid.
These products contain chemicals that may pose health risks to certain individuals. It is crucial to read product labels and follow usage instructions carefully before using any of these products. Additionally, users should consult with a healthcare professional if they have any concerns about the safety of using these products.
Warning:
Keep out of reach of children and pets.
Please note this site is restricted to selling only in the UK
If you disagree with any part of these terms and conditions or our privacy policy, please do not use our website
Vape products have nicotine which is an addictive substance. Over time, your brain and body get used to having nicotine, which means you may have nicotine withdrawal symptoms when you quit vaping
The electronic cigarette, it is important to remember, is not a smoking cessation device and non-smokers should not approach this product
Only for use by adults age of 18+
NOT FOR SALE TO MINORS
Talk To A Vape Expert
Please contact our customer service on 0208 951 0285 and we will be happy to help! Contact us on Social media Facebook, Instagram, Twitter, YouTube, or email us.
We found other products you might like!