Brands:

Menthol Juno Disposable E-Liquid Pods
Juno Menthol Pods 4pk signature collection
Same working day dispatch
Next day delivery
JUNO Pods Menthol
Each Juno POD contains 18 mg / ml of nicotine per POD at the time of manufacture. The pods contain roughly 400 puffs and have an unalterable nicotine concentration of 18 mg. Juno Pods Menthol 4 pack signature collection.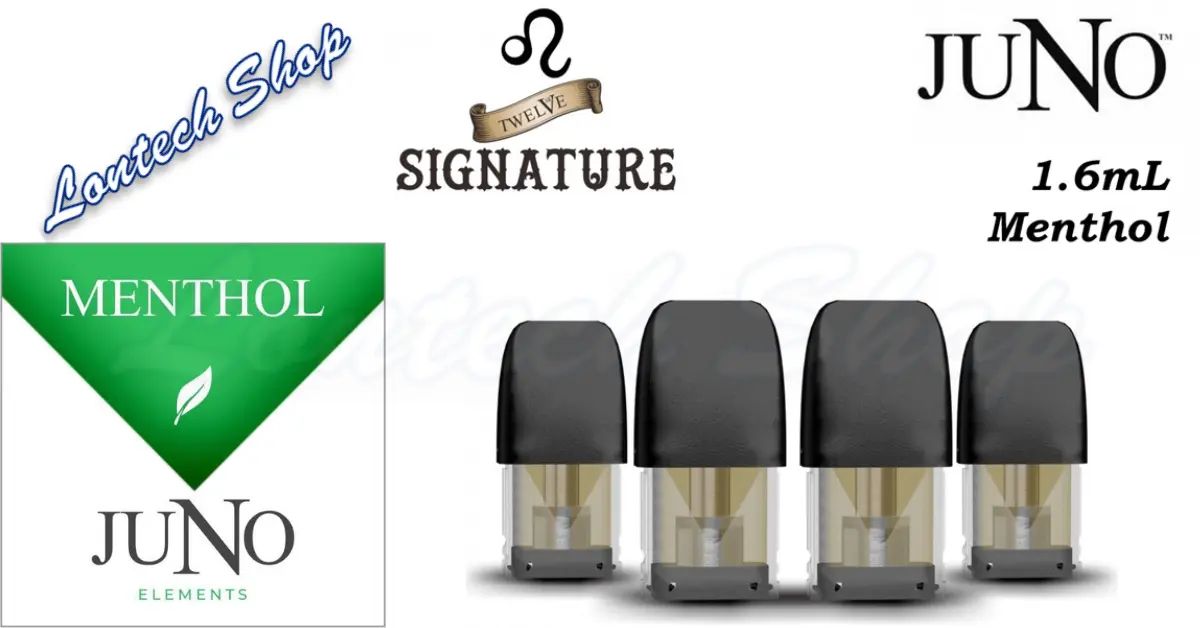 Features:
Brand: Juno
Compatible with the Twelve Juno Starter Kit or JUNO rechargeable battery
Tank capacity: 1.6 ml - UK Version
Nicotine Strength: 18 mg
Pack of four JUNO Pods
Each Pod should deliver around 350 puffs
Each Pod contains 1.6 ml of pre-filled e-liquid
Contains:
1 x Juno Menthol Pods Pack of 4 pk
Juno Vape Pods
Each pod contains 1.6ml of e-liquid with a nicotine concentration of 18mg/ml.
There are 4 pods in each pack.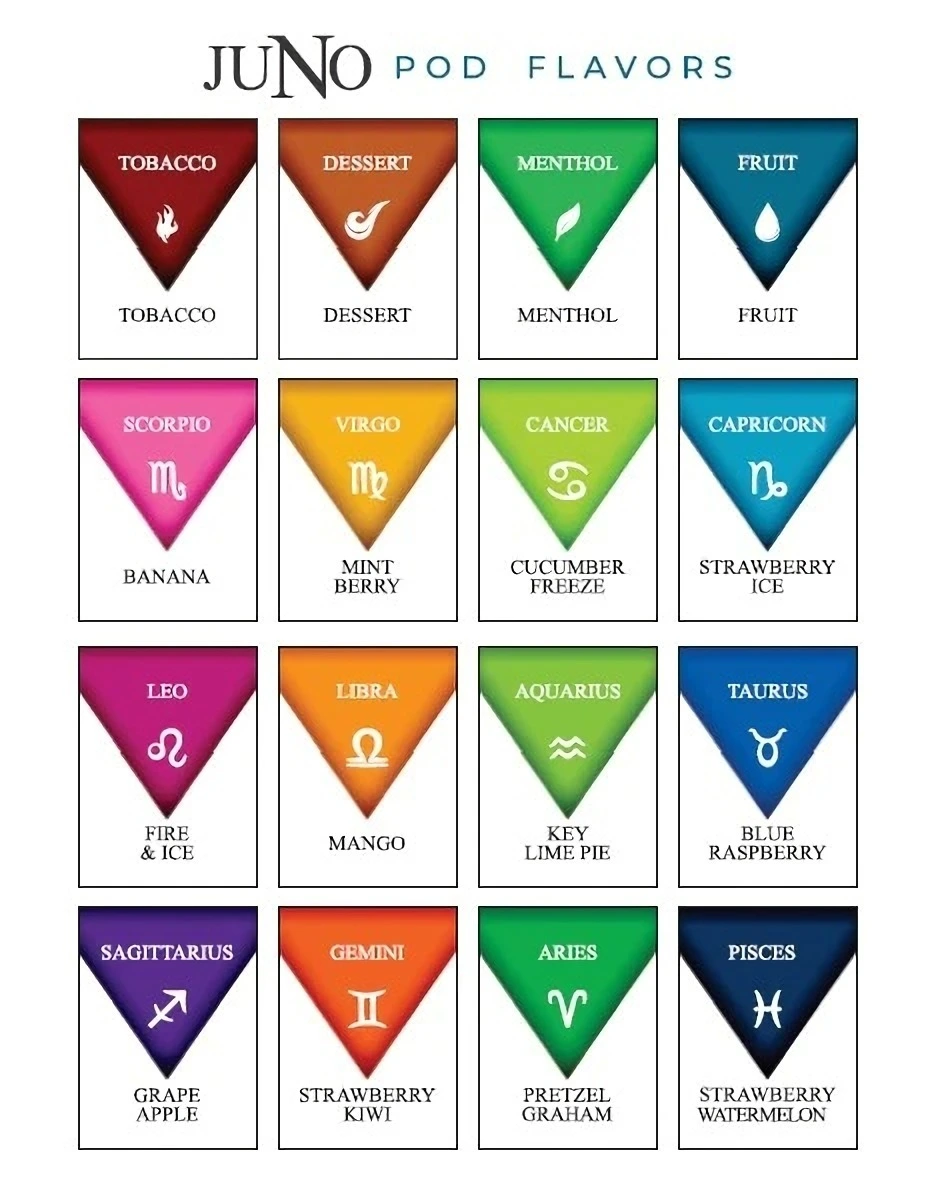 The Juno battery is a 380mAh battery that is available in brushed metal. The kit comes with a USB cable and a user manual. The Juno pods are available in menthol, fruit, and dessert flavours with Nicotine strengths of 18mg.
JUNO Twelve Vapor Pods
Juno is the greatest pod vaping system on the market, and its pod starter kits and pods can help you quit smoking today! The Twelve Vapor Juno is a smoking cessation device that comes in the form of an enclosed pod system. It charges in less than an hour using a micro USB charger and is small and discreet.

The signature collection Jono Vape Pods is available in several different natural flavors and can be split into their Element collection which can be bought in a pack of four, including the Fruit, Tobacco Pods, Menthol, and Dessert flavours or their signature selection which consists of the Pretzel Graham, Blue Raspberry, Strawberry Kiwi, Cucumber Freeze, Cinnamon Menthol, Mint Berry, Mango, Banana, Grape Apple, Strawberry Ice, Key Lime Pie, and Strawberry Watermelon flavors. These pods can be attached to the kit without any substantial added weight. The pods come with an unalterable nicotine content of 18 mg and offer about 400 puffs before they run out.
JUNO Pods Menthol Next to me
All orders from our website for same working day dispatch using royal mail service, or pickup it up from our London store.
Lontech shop is the best go-to online vape shop for all your vaping needs, no matter on budget price or your level of vaping experience.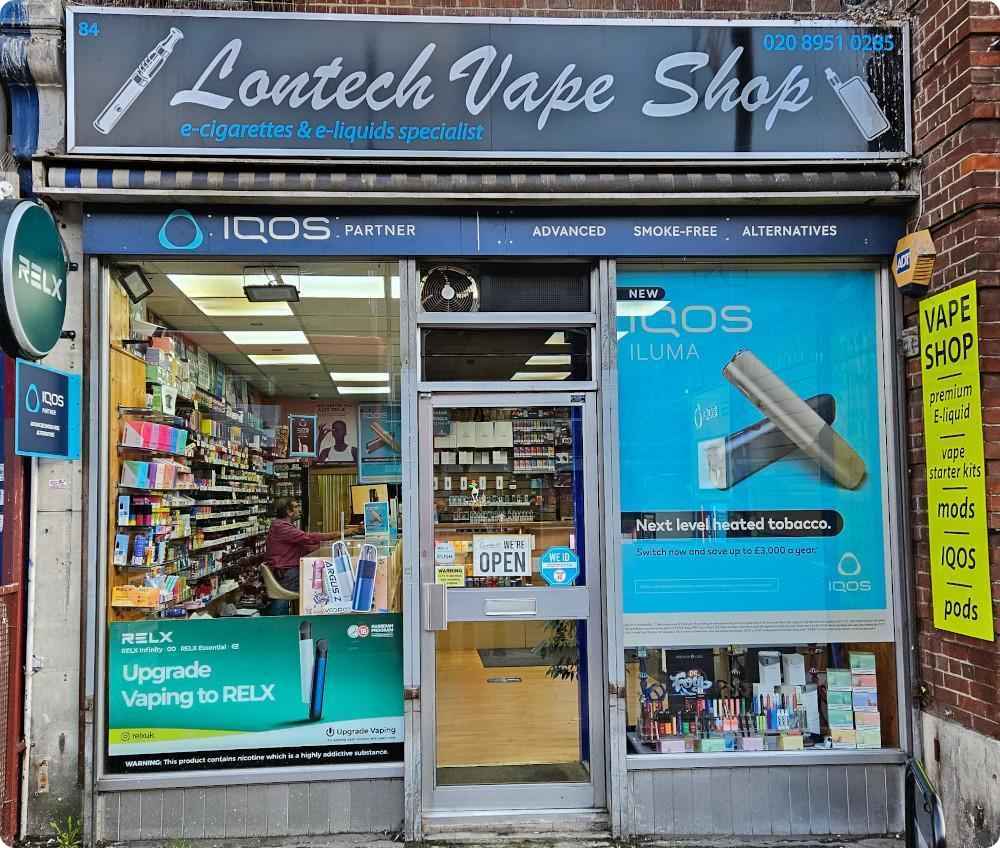 This JUNO Pods Menthol product is not a smoking cessation device and has not been tested as such.
Do not use if pregnant, breast feeding, have liver or heart disease, or high blood pressure. If swallowed, used incorrectly, or you become ill while using this product seek medical attention immediately. You should consult with your doctor before using nicotine.
Wash with soap and water if contact is made with skin; do not touch or drink.
Keep out of reach of children and pets.
Is smoking or vaping better for you?
Vaping Is Less Harmful Than Smoking. E-cigarettes warm nicotine (extracted from tobacco), flavourings and different chemical compounds to create an aerosol that you inhale. Regular tobacco cigarettes comprise 7,000 chemicals, many of which are toxic.
Age Verification
You must be aged 18 years old to buy e-liquids and vaping products from our website.
Electronic Cigarettes, tobacco vaping, tobacco products and e-liquid should not be used by pregnant women or people who are intolerant or allergic to Propylene Glycol or Vegetable Glycerine.
Warning:
Keep out of reach of children and pets.
Vape products have nicotine which is a highly addictive substance. Over time, your brain and body get used to having nicotine, which means you may have nicotine withdrawal symptoms when you quit vaping.
nicotine is an addictive chemical.
Only for use by adults age of 18 +
NOT FOR SALE TO MINORS.
Talk To A Vape Expert
Need some advice? Please contact our customer services on 0208 951 0285 and we will be happy to help!
We found other products you might like!