Roxy Juice E-liquid
All Roxy juice e-liquid has been formulated first in the UK using only the finest ingredients. Our nicotine base is formulated by highly trained chemists in our FDA Registered laboratory to the highest degree of accuracy.
Roxy Juice E-liquid Rear Me
The Roxy Juice are in a 10 ml bottle and in 50% VG and 50% PG, the same ratio found in eLiquid blended with nicotine strength in 3 mg, 6 mg, 12 mg and 18 mg.
Buy Roxy juice e-liquid
All of the components in our e-juice, including pharmaceutical-grade nicotine, are fully traceable. To ensure we're producing the finest product on the market, our Roxy Juice e-Liquid is made in an ISO Class 7 clean room facility and batch tested by a third-party pharmaceutical UK laboratory.
Our broad selection of high-quality eliquid encompasses classic flavours such as tobacco and menthol, as well as some unique and fruity flavours e liquid variants, our newly expanded dessert range, and even some community favourites like vanilla custard and strawberry menthol!
Roxy Juice is a perfect ratio of PG for maximum flavour and satisfying throat hit, an all day vape for vapers looking to use everything they've learned their entire vaping lifetime on one recipe without getting bored of it too soon!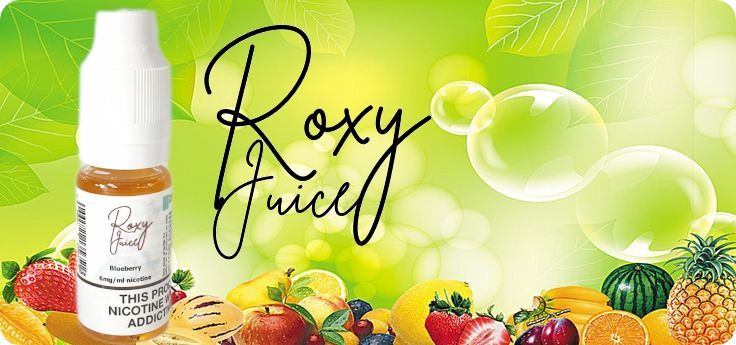 The best vape juice is available for MTL and DTL and it is suitable for all vaping devices and coils. PG propylene glycol carries more flavour than VG vegetable glycerin, whereas VG creates thicker clouds of vapour. 50 50 e liquid gives you the best of both worlds and is a super smooth vaping experience. Most 3mg and 6mg of nicotine is usually the sweet taste spot to best experience great flavour and cloud production but with a gentle throat hit that isn't harsh.
This combination provides vapers with a versatile liquid that is compatible with a wide range of devices and coils to provide an MTL (mouth to lung) and even DTL (direct to lung)
Types of E-Liquid
Wondering what unique sorts of e-liquid are available? The primary sorts of e liquid we provide are:
High PG E-Liquid
High PG has a greater ratio of PG to VG. This potentially the vape juice is thinner in consistency and will elevate flavour very well. High PG vape beverages are nicely used in vape pens, refillable pod mods and different comparable starter kits. The coil used with high PG ought to generally have a resistance over 1 ohm.
Sub Ohm E-Liquid
High VG is thicker in consistency and produces massive clouds when vaporised. High VG liquid has to typically be used with coils that have a resistance beneath 1 ohm.
50/50 E-Liquid
50/50 have a 50% PG, 50% VG ratio, and are tremendous for use in the majority of starter kits. 50/50 liquids provide you with gratifying vapour manufacturing alongside incredible flavour. Different nicotine strengths are available.
Nicotine Salt E-Liquid
Nic salts are made by the usage of nicotine salts in the location of the common freebase nicotine.
This skill they are smoother to vape at greater strengths and supplies a rapid and pleasant throat hit of nicotine that is reminiscent of smoking a standard cigarette.
Nic salts e-liquids ought to be used in low-power starter kits and refillable pod kits.
Short Fill E-Liquid
50 ml / 100 ml Short fill e-liquid is nicotine free and comes in brief fill bottles, which means there may be enough space left for a nicotine shot to be combined. Enjoy zero nicotine or add a full 18 mg nicotine shot to convert it to 3 mg.
Add a Nic shot for a large volume of nicotine containing e-liquid! This frequently works out more cost effective than shopping for smaller bottles.
Generally, eliquid will fall into extra than one of these categories.
Heizen
Heizen By Roxy Juice is a traditional sweet and tangy blue raspberry white grape vape with cooling menthol and a touch of aniseed that comes in several nicotine levels to suit all preferences.
Ice Menthol Roxy Glacier Freeze
Ice Menthol Roxy Glacier Freeze Stay cool with Ice Menthol Liquid by Roxy Glacier Freeze! This refreshing blend of menthol and icy mint is perfect for a crisp and invigorating vape. Our ice menthol e-liquid is a versatile all-rounder that has been created to preserve the life of your atomiser / clearomiser and prevent it from cracking, making it a smart choice for any e-cigarette.
Blackcurrant
This sweet-tasting blackcurrant has a wonderful fragrance that attracts you to it again and again.
Cappuccino
Vapers from all walks of life adore this richly flavoured cappuccino, not just coffee lovers!
Cherry
Cherry By Roxy Juice is a lovely, fresh cherry e-juice that transports you back to those luscious cherries from glorious summers past.
Peach
Peach By Roxy Juice is a pleasant and succulent peach e-juice with a tart finish that provides a fantastic refreshing vape.
Strawberry & Lime
Strawberry & Lime By Roxy Juice, combines the sweet and acidic elements of strawberry and lime perfectly.
Blueberry
One of the best early morning vape choices is a sweet blueberry with a rich, fruity flavour.
Lemon Sherbet
This lemon sherbet By Roxy Juice is something you'll want to try if you love sweet flavoured vape juice.
American Tobacco
For many, the mellowed-down roasted flavour of American Tobacco transports them back to those nights when they frequented nightclubs and everyone smoked.
British Tobacco
This mellow tobacco flavour offers a nice reminder of what we all used to appreciate about smoking and performs excellently as an all-day vape. It's one for the purists. This British tobacco combination has just enough throat hits to satisfy you.
Virginia Tobacco
Virginia Tobacco replicates the flavour of refined rolling tobacco with a light and smooth taste with a well-defined combination of ingredients and is one of our most popular tobacco flavours.
Raspberry
Raspberry By Roxy Juice is a clean and simple vaping juice that is ideal for your everyday life. It's a delicate and smooth natural tasting raspberry vape juice.
Grape
Grape Roxy Juice is a tangy grape vape juice that has been in our collection for many years. It delivers a one-of-a-kind vaping experience that any fruity vape juice lover will appreciate by combining red and white grape notes.
Strawberry
With this sweet and juicy strawberry flavored vape, Roxy Juice's Strawberry E-Liquid is simple. The inhale and exhale have a fruity taste with a lingering sweetness on the tongue.
Cherry Cola
Cherry Cola Flavour with this old cherry-infused cola e-liquid flavour, our manufacturer was able to maintain it lively by adding some sherbety notes beneath the cherry and cola aromas to produce a little zing.
Tropical Mix
Roxy's Tropical Mix features a complex blend of pineapple, coconut, and tropical fruit flavours that sweet and fruity vape enthusiasts will not want to pass up.
Citrus Ice
Citrus Ice, Looking for a refreshing new e-liquid flavour? Check out Citrus Ice by Roxy Juice! This blend of lemon and lime is finished with a cool, icy kick, making it the perfect choice for a summertime vape. Made with high-quality ingredients, this e-liquid is sure to become a new favourite.
Roxy Juice Near Me
Lontech Vape Shop is the official Roxy Juice store and Roxy Juice stockists are near to you with the best electronic cigarette shop near me for vape Eliquid, like Nasty Juice, IVG, ICELIQS, Five Pawns in freebase nicotine and many more in different ratios PG and VG, you can not only find the ideal flavour of your choice but e-liquid that is meticulously checked to ensure they are free of any harmful additive chemicals.

This is one of the primary aspects that sets us apart from our peers in the market.
All orders from our website for same working day dispatch using royal mail service, or pickup it up from our London store.
Lontech Vape Shop is the best go-to online vape shop for all your vaping needs, no matter your budget or your level of vaping experience.
We have the best vapour kits and e-cigarette starter kits, vape pens, and disposable vapes for you to feast your eyes upon. All orders placed before 3:30 pm Monday to Friday (excluding bank holidays) are dispatched the same day subject to availability for next day delivery.
All orders from our website for same working day dispatch using royal mail service, or pickup up from our London store.
Lontech shop is the best go-to online vape shop for all your vaping needs, no matter on budget price or your level of vaping experience.
How can I order products from Lontech Vape Shop?
If you are looking to order products from Lontech Shop, then you can do so by clicking any product information or product code and adding it to the shopping cart and checkout the process to submit your payment information. We accept major credit cards, such as Visa and Mastercard. Once your order has been placed, we will immediately send you a shipping confirmation email with the tracking number for your shipment. We hope that you enjoy your experience shopping with us!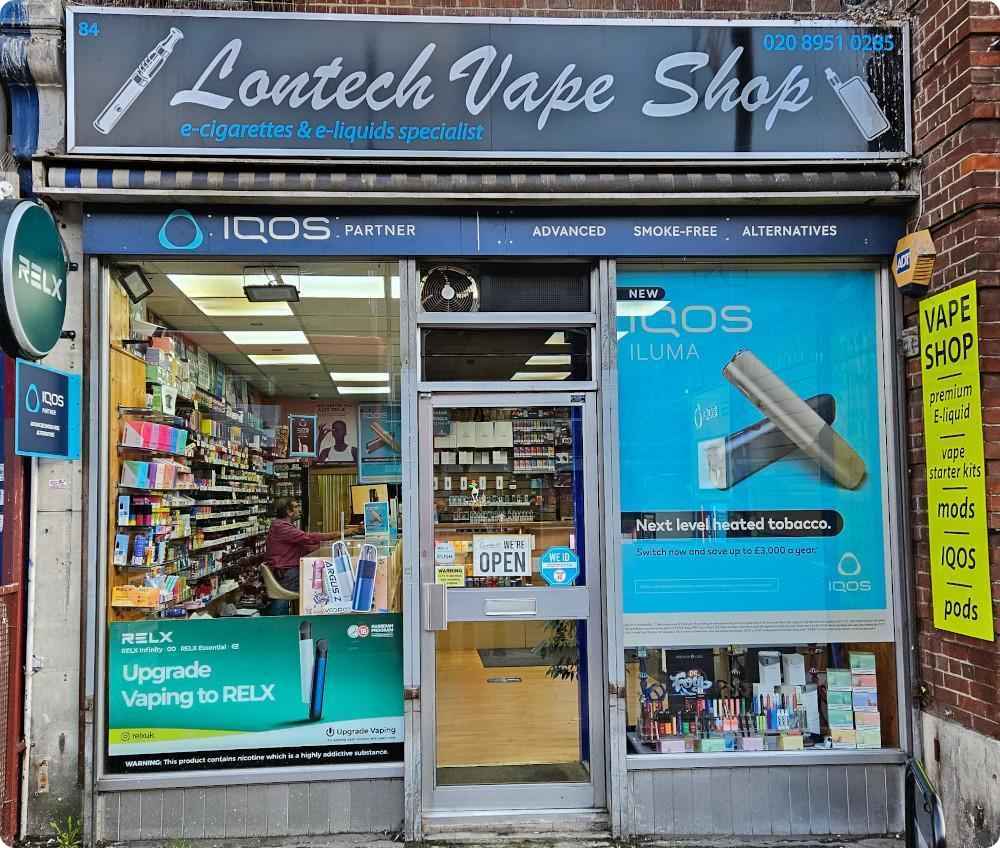 All orders placed before 3:30 pm Monday to Friday (excluding bank holidays) are dispatched the same day subject to availability for next day delivery. Orders placed after 4 pm on Saturday will be dispatched on the following Monday, while orders placed on public holidays will be dispatched on the next working day. This ensures that you receive your device as quickly as possible, so you can start enjoying your vape right away. Orders will not be delivered on bank holidays and Sundays.
Age Verification
You must be 18 years of age to buy e-liquids and vaping products from our website.
Electronic Cigarettes, tobacco vaping, tobacco products and e-liquid should not be used by pregnant women or people who are intolerant or allergic to a blend of glycerol propylene, a special blend of glycerol or Vegetable Glycerine.
Warning:
Keep out of reach of children and pets.
Vape products have nicotine which is a highly addictive substance. Over time, your brain and body get used to having nicotine, which means you may have nicotine withdrawal symptoms when you quit vaping.
If you disagree with any part of these terms and conditions or our privacy policy, please do not use our website.
Only for use by adults, if you experience any side effects, stop using your e-cig immediately and consult a doctor.
NOT FOR SALE TO MINORS.
Talk To A Vape Expert
Please contact our customer service on 0208 951 0285 and we will be happy to help! Contact us on Social media Facebook, Instagram, Twitter, Youtube, or email us.