Blue Razz Lemonade Nic Salt E-Liquid by SKE Crystal
Only %1 left
SKU
crystal-blue-razz-lemonade-salt
Brands:

Blue Raspberry, Lemonade fruity vape flavour 10ml Nicotine Salts E-Liquid
3000 puffs per bottle or equivalent to 5 SKE Crystal bars disposable vape
10 mg & 20 mg Nicotine Strengths
50% VG / 50% PG
Blended For MTL Vaping
TPD Compliant
Childproof Cap
Tamper Evident Seal
Recyclable Bottles
Same day dispatch & tracked next day UK delivery
Next Working Day delivery
Blue Razz Lemonade Nic Salt E-Liquid
Introducing the tantalizing Blue Razz Lemonade Nic Salt E-Liquid, a true masterpiece crafted by SKE Crystal. Prepare to be blown away by the fusion of succulent blueberries and zesty lemons, meticulously blended to create the ultimate vaping experience.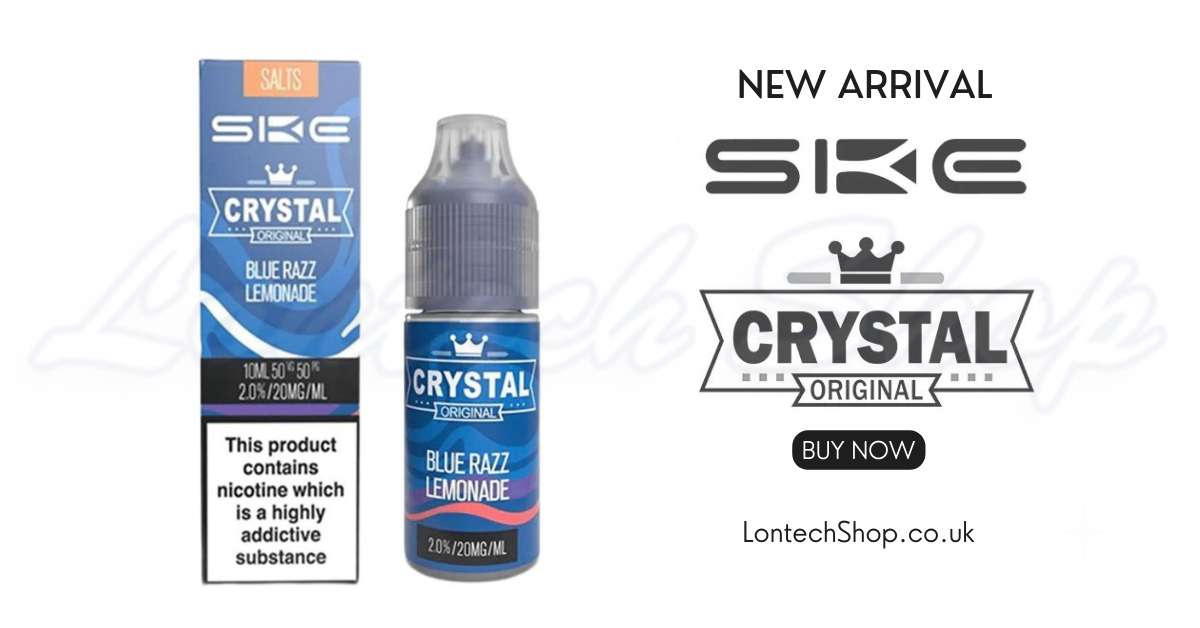 With each inhale, the vibrant realistic tasting flavours dance on your taste buds, leaving behind a refreshing burst of sweetness that lingers in the air. Savour this exquisite creation, as it transports you to a summer oasis with every cloud you exhale.
So indulge yourself in the luxurious world of Blue Razz Lemonade Nic Salt E-Liquid by SKE Crystal and let your senses be captivated by the sheer brilliance of this flavour.
The Blue Razz Lemonade Nic Salt E-Liquid is a true testament to SKE Crystal's dedication to excellence in crafting e-liquids that redefine the vaping experience. From the moment you take your first puff, you will be greeted with an explosion of tangy blueberries, their natural sweetness mingling harmoniously with the invigorating zest of freshly squeezed lemons.
As the vapour dances across your palate, it envelops you in a wave of refreshing coolness, reminiscent of a breeze on a hot summer day. The balance of flavours is impeccable, with the tartness of the blueberries complementing the bright acidity of the lemons, creating a symphony of taste that is both invigorating and satisfying.
But what sets Blue Razz Lemonade Nic Salt E-Liquid apart from other e-liquids is its use of nicotine salts. SKE Crystal has masterfully incorporated high-quality nicotine salts into their formula, ensuring a smooth throat hit that doesn't compromise on flavour. This allows vapers to enjoy a higher concentration of nicotine without the harshness typically associated with traditional e-liquids. The nicotine salts provide a more satisfying and fulfilling vaping experience, delivering quicker and more efficient nicotine absorption.
The Benefits of Salt Nicotine E-Liquid
Nic salts are absorbed into the body far quicker than standard e-liquids, providing a faster hit to keep your nicotine cravings at bay. In addition, nic salts eliminate the harsh throaty aftertaste associated with traditional e-liquids. Inhalation of NIC salts is a popular method for those looking for a smoother vaping experience.
Nic salts maintain their smooth flavour even when heated by a vaping device. They absorb into the bloodstream in 6-7 seconds, satisfying cravings faster than freebase nicotine. With smoother throat hits at higher strengths, they provide quicker nicotine delivery compared to traditional vape juices in e-liquid form.
All orders from our website for same working day dispatch using Royal Mail service, or pickup up from our London store.
Lontech shop is the best go-to online vape shop for all your vaping needs, including a wide range of vape kits and pod kits, no matter on budget price or your level of vaping experience.
SKE Crystal Blue Razz Lemonade Nic Salt E-Liquid
The Blue Razz Lemonade Nic Salt E-Liquid by SKE Crystal is a well-balanced vape juice with sweet and tart blue raspberry notes on the inhale and zesty lemonade on the exhale. This e-liquid is available in 10ml bottles with 10mg or 20mg salt nicotine, designed for MTL/starter vape kits. It can be used in most refillable vape kits and open pod vapes, providing a smooth and flavoursome vape. However, it is important to use according to instructions and ensure that the product is out of reach of children.
The SKE Crystal Bar, a prefilled disposable vape from SKE Crystal, has become a hit with customers due to its authentic and lifelike flavours. One flavour that stands out is the Blue Razz Lemonade Nic Salt E-Liquid, which is also offered in a 10 ml bottle. The Blue Razz Lemonade flavour combines the delicious taste of blueberry and raspberry with a twist of lemonade. It's the perfect choice for those who enjoy fruity and refreshing e-liquids. Now, vapers can enjoy their favourite disposable flavours in any low-powered device, including pod kits and most starter vape kits. Like Uwell Caliburn G2 Pod Vape Kit, Voopoo Argus Z Vape Kit and Vaporesso XROS Pod Kit.
SKE Crystal Salts Blue Razz Lemonade E-Liquid is highly sought-after in their range of e-liquids. It offers the natural and realistic flavours of blue raspberry and lemonade, making it a favourite among fans of fruity flavours. SKE Crystal Salts have a higher concentration of flavour compared to regular e-liquids, allowing for intense flavours that are reminiscent of prefilled disposable vapes. This e-liquid is available in nicotine strengths of 10 or 20 mg/ml and can be delivered quickly with next-day shipping.
What is Blue Razz Lemonade Nic Salt E-Liquid by SKE Crystal?
Blue Razz Lemonade Nic Salt E-Liquid by SKE Crystal is a popular e-liquid flavour that combines the tartness of blue raspberries with the refreshing taste of lemonade. It contains nicotine salts for a smoother vaping experience and is produced by SKE Crystal, a reputable e-liquid manufacturer.
Blue Razz Lemonade Nic Salt E-Liquid by SKE Crystal Near Me
You can find Blue Razz Lemonade Nic Salt E-Liquid by SKE Crystal in a variety of strengths online and in our vape shop. Other great flavours are also available. You can find the 10 mg and 20 mg salt nicotine strength that you need in order to have a smooth and satisfying vaping experience.

How can I order products from Lontech Vape Shop?
If you are looking to order Blue Razz Lemonade Nic Salt E-Liquid by SKE Crystal from Lontech Shop, then you can do so by clicking any product information or product code and adding it to the shopping cart and checkout the process to submit your payment information. We accept major debit cards and credit cards, such as Visa and Mastercard. Once your order has been placed, we will immediately send you a shipping confirmation email with the tracking number for your shipment. We hope that you enjoy your experience shopping with us!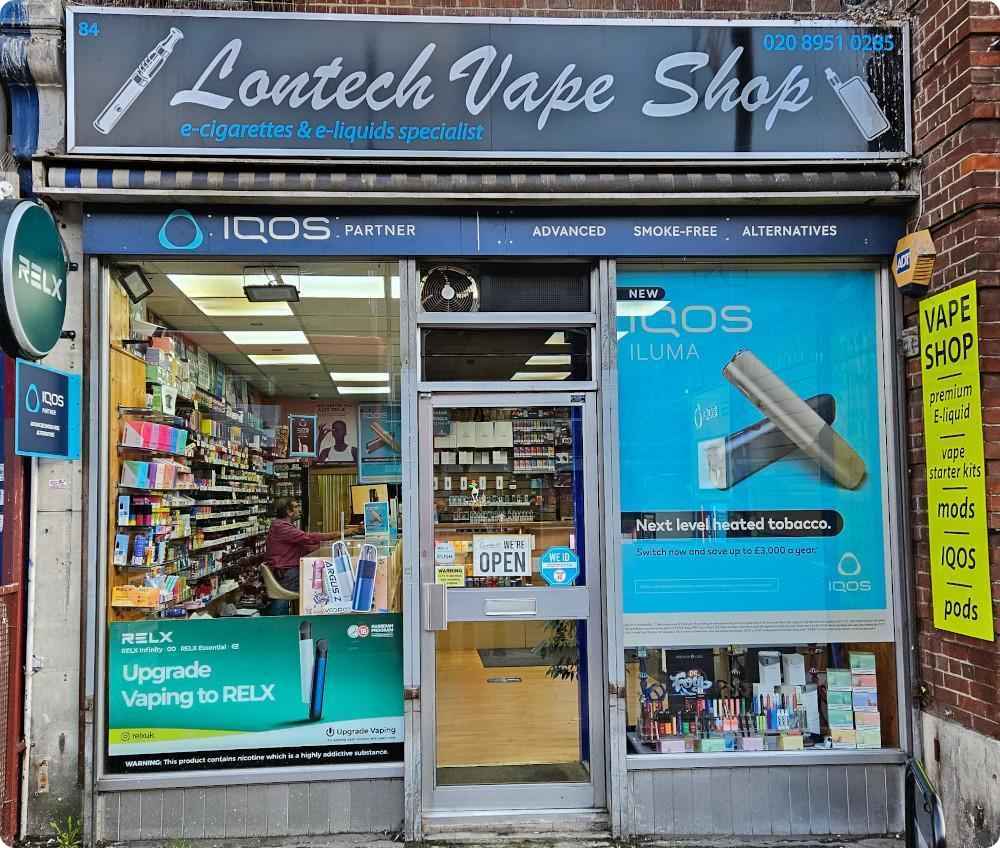 Shipping & Delivery
All orders placed before 3:30 PM Monday to Friday (excluding bank holidays) are dispatched the same day subject to availability for next day delivery. Orders placed after that or on Saturday / Sunday will be dispatched on the following Working Day, while orders placed on public holidays will be dispatched on the next working day.
This ensures that you receive your device as quickly as possible, so you can start enjoying your vape right away. Orders will not be delivered on bank holidays and Sundays.
Age Verification
You must be aged 18 years old to buy e-liquids and vaping products from our website.
Electronic Cigarettes, tobacco vaping, tobacco products, cigarette products, and e liquid should not be used by pregnant women or people who are intolerant or allergic to propylene glycol or vegetable glycerine.
Warning:
Keep out of reach of children and pets.
Please note this site is restricted to selling only in the UK
If you disagree with any part of these terms and conditions or our privacy policy, please do not use our website
Vape products have nicotine which is an addictive substance. Over time, your brain and body get used to having nicotine, which means you may have nicotine withdrawal symptoms when you quit vaping
The electronic cigarette, it is important to remember, is not a smoking cessation device and non-smokers should not approach this product
Only for use by adults age of 18+
NOT FOR SALE TO MINORS
Talk To A Vape Expert
Please contact our customer service on 0208 951 0285, and we will be happy to help! Contact us on Social media Facebook, Instagram, Twitter, Youtube, or email us.
We found other products you might like!