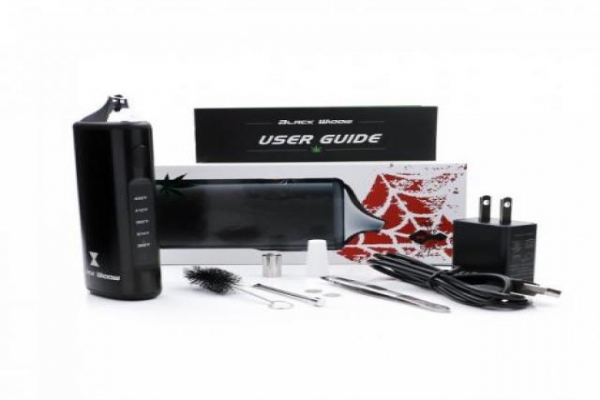 The Black Widow has been designed from the ground up to offer an exceptionally flavoursome and rich vaping experience. The Full Ceramic Heating Chamber is engineered to self-regulate the temperature of your herb, ensuring precise control over the extraction of your chosen chemical constituents. The Black Widow comfortably outperforms vaporizers with big names at twice the price, with her hands tied behind her back!

The tastefully crafted Metal Mouthpiece has Strong Magnets to keep it in place. This means you no longer need to worry about carrying a fragile glass mouthpiece in your pocket as some other vaporizers require.

The Widow is light enough to be extremely portable whilst heavy enough to know that it has been well constructed and built to last. She has the following dimensions 12.8 x 4.4 x 2.6 cm

The Ceramic Chamber can bake around 0.3-0.4g of your favourite Herbs at any one time and as with all vaporizers, it works better when it's more full. There is a Concentrate Capsule included in the box which allows the use of your favourite extractions and solids, making the Widow a true Jill Of All Trades

The huge battery on this device means that you should be expecting around 70-100 minutes of use from each charge, easily giving you 7 sessions. She's always game!


Dry Herb Vaporizer Included In The Box
1 x Black Widow Vaporizer
1 x Concentrate Capsule
1 x Silicone Mouthpiece
1 x Packing Tool
1 x Cleaning Brush
1 x Tweezers
1 x Replacement Gauze
1 x Micro USB Charging Cable
1 x AC Adapter (Non-UK)
3-In-1 Vaporizer - Not only does it have a large herb chamber, but also a concentrate capsule to vape all your favourite goodies.
5 Temperature Settings And Rapid Heat Up Time - Five Temperature modes will ensure that you find your sweet-spot for flavour and vapour production. Chamber heats up in 30s from room temperature to 374F
Impressive Battery Life -The Widow's battery life will give you around 90 minutes of continuous vaping or roughly 7 individual sessions
Beautifully Constructed And Robust - The Widow looks gorgeous and feels so sexy in your hand you won't want to put her down. Her slick one button design ensures simple user friendliness